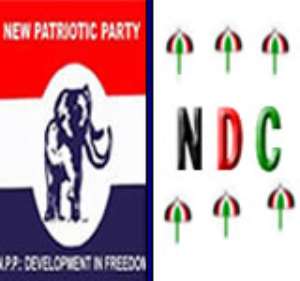 Electorates have 57 days to decide which party gets to the flag staff house.
To influence that decision they have been inundated with a myriad of promises, and a huge task of finding out who is guilty of plagiarising manifestos.
A manifesto launch by the National Democratic Congress triggered a war of accusation, with the ruling New Patriotic Party throwing the first salvo, accusing its opponent NDC of an empty manifesto enhanced with stolen ideas from the NPP.
Party chairman Peter Mac Manu at a press conference cited among other policies the National Health Insurance Scheme, the Capitation Grant, and the School Feeding Programme which the NDC promised to continue if it won the election as evidence for his accusations.
But the NDC takes serious exception to this.
Not only have they rubbished the accusations, they have tabled fresh ones, with the claims that the NPP are rather guilty of what they accuse the NDC of.
According to the chairman of the manifesto committee of the NDC Mr. Lee Ocran, the NPP has stolen the "moving forward" slogan that accompanied the 1996 NDC manifesto, and tactfully changed the names of existing policies in the manifesto to appear new.
At a press conference to react to the accusations, Mr. Ocran said the Capitation Grant which the NPP takes credit for was actually started under the Free Compulsory Universal Basic Education (FCUBE) first implemented by the NDC.
He accused the NPP of double standards having criticised the NDC's implementation of the National Health Insurance policy when it was in opposition.
He further accused the NPP of deceit after it failed to honour its promise of paying pensions to farmers and embarking on an affordable housing project for workers.
With the same problems facing Ghanaians, could it be legitimate for the parties to have similar solutions to the problems or it may well be that one of them has indeed plagiarised?
Even if one has, does it even matter to the electorates?
Author: Nathan Gadugah