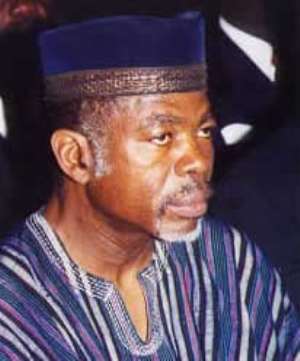 The flag bearer of the People's National Convention (PNC), Dr Edward Nasigrie Mahama is to name his running mate for Election 2008 on Tuesday, who is likely to be a woman.
A source within the campaign team of the flag bearer told the Ghana News Agency that Dr. Mahama's selection was based on the conviction for gender parity in the high office of the Presidency.
The source said the flag bearer, in conformity with the party's Constitution, would present the selected running mate to the National Executive Committee (NEC) of the party on Monday.
He said without mentioning the name of the running mate that the choice was a "confident, courageous and affable lady" who comes from the Volta Region to balance the political landscape of mainstream political activity for Election 2008.
Alhaji Ahmed Ramadan, PNC National Chairman, told the GNA that the party views a leader as the servant of the people and the running mate had the temperament, ability to listen and complement the President in all spheres of governorship.
He said the selection of a woman as a running mate was guided by the party's declared intention to form a cabinet with 50 per cent gender sensitivity, stressing; "The nation is ripe for a woman to be at the helm of political leadership."
He said NEC would meet on Monday to interact with the running mate, and the flag bearer, discuss Election 2008 agenda, the campaign strategy over the period, the way forward, filing of nomination and other related matters.
He said on Tuesday, the party would officially present the running mate to the nation through the press in Accra and roll out the next stage of the PNC Campaign to capture power in the December polls.
Alhaji Ramadan said voting in Election 2008 should focus on issues and the credibility of leadership instead of merely the savour of a political party, empty promises, emotional gymnastics and fanfare.
He urged the electorate and the media to scrutinize all the flag bearers objectively on their ability to deliver, personality credentials and accomplishments, the genuineness of their messages and their international credibility.
"We should be careful about leaders with doubtful character, fraudulent and criminal image…. Ghana deserves a leader who would project the image of the nation among the community of nations," he said.
Alhaji Ramadan said the PNC was offering Ghanaians leadership focusing on national agenda instead of personality agenda.
He called on the electorate to vote for a PNC-led government for real change in the fortune of national development.
"They (NPP) have not been able to move the country forward in the past eight years when they assumed leadership with fresh men. Now with tired hands, it would a political disaster to renew their mandate."