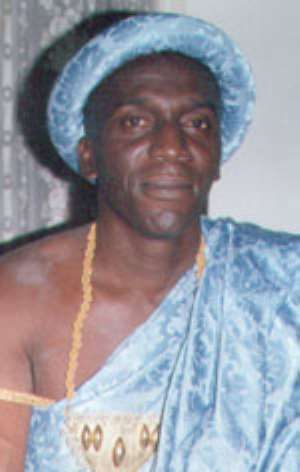 THE paramount chief of Essikadi traditional area in the Western region, Nana Kobinah Nketsia (V) has cautioned Ghanaians to stop dragging the judiciary into the gutter of politics to ensure the entrenchment of democracy in the country.
According to him, a section of the population always view the judiciary with partisan lenses, a practice he noted must not be encouraged.
Speaking at a forum organized by the Commission for Human Rights and Administrative Justice (CHRAJ) in Takoradi recently, Nana Kobinah Nketsia, known in private life as Professor Baffoe Maison said the rule of law which is one of the prerequisites for effective democracy would be thrown overboard if Ghanaians did not change from the habit of politicising the judiciary.
"When you sneeze in Ghana, people read politics into it and this is happening to the judiciary too", he noted.
According to the traditional ruler, one of the key institutions that have helped this country in our democratic process is the judiciary and all Ghanaians must protect it.
This, Nana believes, is the only way that would allow all other stakeholder institutions in the country to work, so that our democratic process would function as a nation.
He called on all Ghanaians to change their attitude towards the judiciary and other important state institutions and learn from the United States of America, which believes in their institutions.
A Takoradi-based legal practitioner, Mr. Ekow Amoah Sekyi, who spoke on Ghana's political growth, disagreed with the funding of political parties by the government.
He called on the political parties to raise their own funds to fund their activities. To him, funding of parties by the state would encourage formation of mushroom parties.
The taxpayer's money, he said, would therefore be wrongly directed into fruitless ventures.
"If even we decide as a nation to go by the decision of funding these political parties, then there must be a criterion to fund the strong ones among them," he opined. But, he argued that it would also have to be supported by law, else the state would infringe upon the constitution.
Touching on the behavior of the two major political parties in Ghana, the National Democratic Congress (NDC) and New Patriotic Party (NPP), he said they have over the years been diametrically opposed to the work of the core institutions mandated to conduct elections in the country.
According to him, whilst the NPP castigated the NDC in government in 1992 for manipulating the Electoral commission (EC), the same party did not complain when it won an election conducted by the same EC in 2000.
The NDC, also when in government praised the same EC for effective work at the time, but coming into opposition in the last two elections, Mr. Amoah-Sekyi said they have also started castigating the same institution they had earlier praised.
This hypocritical stands of the two parties, if not checked, could pose a threat to our democratic growth, he noted.