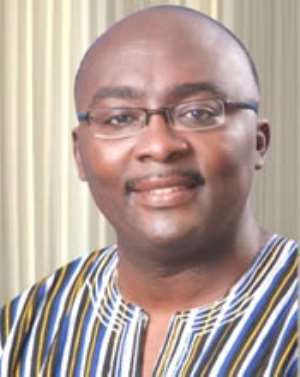 Dr Mahamadu Bawuamia, the running mate of Nana Addo Dankwa Akufo-Addo, has called on the youth to vote for the New Patriotic Party (NPP), come December 7, 2008 for better economic management and good governance.
Addressing the TESCON branch of the University of Education at Winneba as part of a four-day campaign tour in the Central Region, Dr Bawumia said the youth should not vote for politicians, who had no vision, good track records, and likely to create problems in future.

He said NPP government under Nana Akufo-Addo would put in place comprehensive policies and programmes that would give them hope for future.

According to Dr Bawumia, President Kufuor's inherited a shattered economy in 2001, but through hard work and financial discipline, the economy had recorded an impressive growth in Gross Domestic Product (GDP) and a reduction in inflation rate.

Dr Bawumia stressed that government had adopted prudent monetary and fiscal policies that had boosted the economy and attracted many foreign investors into the country over the past seven years.

This he said had enabled the country to wean itself from the International Monetary Fund (IMF) conditions.

He assured the TESCON branch of the party that government under Nana Akufo-Addo would increase the salaries of teachers and also provide adequate incentive packages that would motivate them to work.

Dr Bawumia said the development of education largely depended on teachers, who held the key to its success.

Mr Kwamena Bartels, Member of Parliament for Ablekuma North and a member of the Central Regional Campaign Team, urged TESCON members in the various Universities to intensify their campaign by explaining government's policies and programmes to the electorates to win votes.

He said once in future some of them would become political leaders, and it was important they offered the needed sacrifice, dedication and patriotism to the party they belonged.