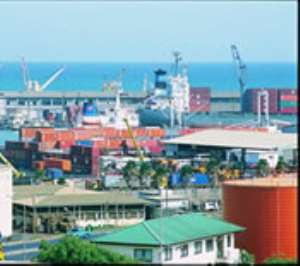 Tension is mounting at Tema Port over the intention of management of Ghana Ports and Harbours Authority (GPHA) to implement its contract with management of Meridian Port Services (MPS) to handle all vessels containing 50 plus containers from Wednesday, October 15.
The managements of eight indigenous stevedoring companies have said implementation of the contract would collapse their businesses since vessels containing less than 50 containers rarely berth at the port.
They are, Dash Wood Stevedore Company, Golden Gates Services, Atlantic Port Services and Speedline Stevedoring.
The rest are Fountain View Services, Odart Stevedoring, Gemini Stevedoring and Advance Stevedoring Company.
On Thursday, September 2 this year, management of GPHA allegedly informed managements of the companies of its intention to implement part of its contract with MPS, from October 15.
The company, with 30 per cent share ownership by management of GPHA and 70 per cent share by management of Maerskline of Denmark and Bollre of France, is a private company in charge of stevedoring and shore handling at the port.
The eight companies are members of Ghana Association of Stevedoring Companies (GASCO).
Last Thursday, October 9, workers of the companies hoisted red flags, wore red arm bands and chanted war songs to register their protest against implementation of the contract.
Mr Joseph Omega Arthur, Operations Manager of Dash Wood Stevedore Company told journalists that as part of measures by management of GPHA to decongest the port, private stevedoring companies were given licences to operate from 2002.
He said as part of the requirements to acquire a licence, the indigenous stevedoring entrepreneurs purchased container handling equipments which cost over 550,000 dollars each through loans they contracted from the banks.
Mr Arthur explained that between 2006 and 2007, management of GPHA signed a contract with management of MPS that mandated MPS to use berth one and two for its activities while the rest including GPHA used berth three to 12.
He said management of GPHA however, told them on Thursday, October 9, that "berth three to five has been added to the berths allocated to MPS".
Mr Arthur pointed out that implementation of the contract would collapse their activities since vessels containing less than 50 containers rarely berth at the port.
He said management of MPS was already handling 50 per cent of the container works at the port, while management of GPHA handled about 25 per cent leaving only 25 per cent for the other companies.
"We have no option than to lay off our 3,000 employees," he added.
Madam Josephine Nkrumah, Executive Secretary of GASCO appealed to management of GPHA to suspend implementation of the contract until a reply to a petition submitted to the Office of the President in August this year, had been received.
She noted that even though GASCO had informed management of GPHA about the petition, it had refused to consider its plea.
Mr Ben Owusu Mensah, Director General of GPHA however, denied claims by GASCO and told Ghana News Agency that members of GASCO did not give management of GPHA the opportunity to explain.
"We called them to a meeting for explanation on the issue, they walked out," he said.
Mr Mensah said implementation of the contract had been postponed to January 2009 to enable management of GPHA institute some logistical measures including building additional container terminal due to the increase of containers passing through the port.
He explained that due to the shift from cargo shipping to container shipping, Tema port received about 500,000 containers instead of the initial 120,000 containers.
Mr Mensah noted that management of MPS had the equipment and capacity to receive vessels with 50 plus containers and from January 2009, assume responsibility for container shore handling operations which did not involve stevedoring companies.
He gave the assurance that management of GPHA would renew licences of stevedoring companies in January 2009, as a normal practice adding, "nobody would throw them out of business."