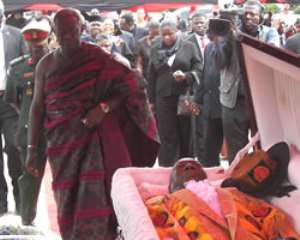 President John Agyekum Kufuor and former President Jerry John Rawlings, today put aside the acrimony that has laced exchanges between them over the years and particularly in recent months; meeting face-to-face and shaking hands to the admiration of hundreds.
The occasion was the state funeral ceremonies for the late Rt. Hon. Peter Ala Adjetey, the second Speaker of the Parliament of Ghana in the Fourth Republic and ex-Chairman of the New Patriotic Party, who proved even in his death, his unifying character and uncommon desire for objectivity.
Ex- President Rawlings, one of many mourners to arrive early to pay their last respects, had sat through the many ceremonies together with his wife, Nana Konadu Agyeman Rawlings, National Democratic Congress Presidential Candidate, Professor John Evans Atta Mills, NDC Chairman Dr. Kwabena Adjei and Women's Organiser, Madam Ama Benyiwa Doe.
The Police Band, conducted by Inspector Gyan Mantey, had just finished the National Anthem to pave the way for President Kufuor's departure. And he chose to do obeisance with mourners, greeting everybody from the family of the late Speaker, Members of the Council of State, ministers, parliamentarians, traditional leaders, the clergy and members of the Ghana Bar Association. President Kufuor then moved on to greet his 'opponents', and the sheer encounter plus the brief smiles on their opposing faces sent followers of the NPP and NDC into chanting party slogans.
That, certainly, was a parting gift from Ala Adjetey, the man whose baritone voice subdued the honourable House of Parliament in times of disorder, and descended heavily on both his party members and the minority side alike, so much so that both sides from time to time doubted his partisanship.