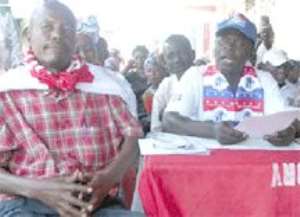 Polling station executives of the New Patriotic Party (NPP) in the Komenda-Edina-Eguafo-Abrem Constituency in the Central Region have reacted angrily to a report that the sale of pre-mix fuel in the area has been restored to the Chief Fisherman of Elmina, Joojo Solomon.
The return of the trade to the chief fisherman followed the dissolution of the Elmina Interim Premix Management Committee annonced by the Minister of Fisheries, Mrs Gladys Asmah.
At a press conference in Elmina to react to the minister's announcement, the polling station executives said if within one week the decision is not reversed, they would embark on mass demonstrations.
In a statement read on their behalf by the KEEA Constituency Chairman of the NPP, Nana Appiah Korang, the group expressed dismay at the minister's decision and described it as a flagrant disrespect for the President, the Chief of Staff and Minister of Presidential Affairs, the Central Regional Minister and the KEEA Municipal Chief Executive.
They wondered why Mrs Asmah should direct the Oil Marketing Companies to supply Joojo Solomon premix fuel without going through the Central Regional Co-ordinating Committee on premix as stipulated by the premix regulations.
The Executives said until its dissolution, the IMC was performing creditably and rendering regular accounts.
They added that the IMC had rehabilitated street lights, supplied learning materials, uniforms, granted bursaries to children of fishermen and donated 50 bags of cement to support the construction of the chief's palace.
They claimed that Joojo Solomon was suspended for allegedly embezzling funds from premix sale and that since the minister had failed to investigate the allegation, they found the action to reinstate him incompatible with the tenets of anti-corruption, accountability and transparency.
Story by Joe Okyere