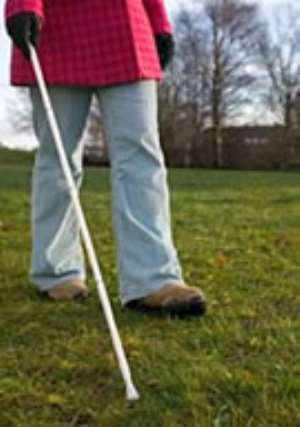 Ghana has been identified as one of the countries on the continent most affected by glaucoma with 8.5 per cent of persons above 40 years having the disease and 7.7 per cent of persons above 30 years also carrying the disease.
This came to light on Thursday when the Ghana Health Service (GHS) marked the 2008 "World Sight Day" which falls on every second Thursday in October. The Day is under the theme "Eyes on the Future - Fight Vision Impairment in Later Life Now".
Giving a presentation on blindness, Dr. Oscar Debrah, Head of the Eye Care Unit of the GHS, said although Ghana was one of the leaders in glaucoma cases in Africa, cataract was the main cause of blindness as it contributed 45-50 per cent of all cases.
Glaucoma contributed 15 to 20 per cent; oncho and trachoma also contributing 5 per cent each; childhood blindness 5-10 per cent refractive errors and low vision five per cent and others 10-15 per cent.
Dr. Debrah attributed the causes of blindness in the country to dirty environment, consumption of dirty water and non-treatment of eye diseases in their early stages, adding that, all eye diseases were treatable with the exception of absolute glaucoma.
He explained that globally it was estimated that 66.7 million persons were infected with glaucoma with 4.5 million to 6.0 million of them being blind.
"By 2020 global glaucoma prevalence would have reached 79.6 million with 11.2 million of them going blind."
Dr. Debrah said it was estimated that 161 million people in the world had visual impairment with 37 million of them being blind.
"In sub-Saharan Africa, 27 million people are estimated to be visually impaired with 6.8 of them being blind."
Dr. Debrah noted that three out of every four cases of blindness were preventable and that 90 per cent blind persons lived in low income countries.
The prevention of blindness, he said, would improve access to education, employment opportunities and alleviate household, community and national poverty.
On the importance of the Day, Dr. Debrah explained that it was instituted to raise public awareness on blindness as a major public health issue, influence governments to fund blindness activities and to educate people about eye related diseases.
He bemoaned the situation whereby there were only 48 eye doctors in the whole country with 27 of them stationed in Accra.
Dr. Debrah warned the public about buying reading glasses from the streets since it would have a long term negative effect on their eyes.