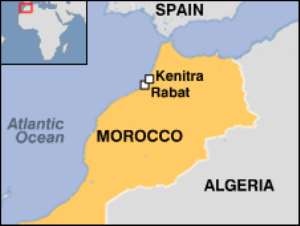 Scores are missing after a boat laden with some 50 economic migrants capsized in rough seas off the coast of Morocco.
The boat was reportedly attempting a dangerous open-sea journey from Morocco to Spain, often used by illegal migrants trying to reach Europe.
The body of one man has been found on a beach near the northern city of Kenitra and at least one male survivor has been rescued. Both were Moroccan.
The fate and nationalities of the other passengers remains unknown.
Helicopters were being used to scour the ocean for survivors, Morocco's MAP state news agency reported.
Thousands of migrants attempt the difficult sea crossing every year but many do not make it, says the BBC's James Copnall in Rabat.
Rickety boats
The survivor told authorities the boat had capsized half an hour after setting off on Tuesday night from Kenitra, 40km (25 miles) east of Rabat.
Kenitra was an unusual starting point for a trip to Spain, our correspondent notes, as the boat would have had to cross more than 250km of open sea.
In the past, most people attempting the sea crossing came from sub-Saharan Africa.
But a report by the International Office of Migration shows that in more recent times the majority have had North African origins.
The most desperate among those intent on reaching Europe pay thousands of dollars for a passage on a rickety and dangerous boats.
Source: BBC