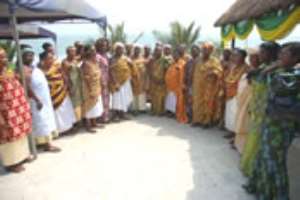 Mr Justice S.A. Brobbey, a Supreme Court Judge on Thursday appealed to members of the National House of Chiefs (NHC) to discuss and come out with a firm decision on the representation of queen mothers in the Regional and National Houses of Chiefs.

He said the question that remained unresolved after the passage of the new Chieftaincy Act 2008, Act 759, was whether queenmothers should be admitted to Houses of Chiefs.

Mr Justice Brobbey made the appeal at a workshop on the new Chieftaincy Act at the NHC in Kumasi.

He explained that since some queenmothers now occupied paramount stools, it was important for the NHC to come out with a definite decision on their status adding "the world is looking at the NHC for guidance".

Mr Justice Brobbey, who was instrumental in the passage of the Act, used the workshop to explain and interpret some of the provisions to enable chiefs have clearer understanding to ensure its full implementation.

Mr Justice Brobbey called on the NHC to come out with guidelines on the qualification of a chief to the Houses of Chiefs.

He explained that under the Act, a chief or queenmother could be installed after 14 days notice to the appropriate institutions involved, while an injunction to prevent installation of a chief could be obtained at least a week before the installation to protect the dignity of chiefs and the institution.

Mr Justice Brobbey said under the Act, NHC had absolute authority of all chieftaincy matters in the country because chiefs were empowered to adjudicate in chieftaincy disputes.

Odeneho Gyapong Ababio, President of NHC expressed appreciation to the members for their unflinching support during his tenure of office and appealed to them to offer same to his successor to be elected on November 26, this year.