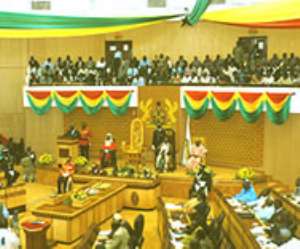 Mr. Abraham Ossei-Aidoh, Minister of Parliamentary Affairs, on Thursday said Parliament would not take a break next week to allow members time to file papers to contest Election 2008.
He said the House would have to manage and work with parliamentarians who would not contest the polls while those who would be contesting the elections would go to their constituencies to conclude nomination for the elections.
Mr. Ossei-Aidoh was reacting to questions raised by the NDC member for Asawase, Alhaji Mubarak Muntaka, concerning business of the House for next week, which did not make provision for next week's opening of nominations for the elections.
Earlier, the House took the Electronic Communications Bill and the National Communications Authority Bill through the Second Reading, the stage at which the provisions, principles and merits of bills are debated.
The Electronic Communications Bill seeks to provide for the regulation and control of electronic communications and broadcasting services.
The National Communications Authority Bill is to re-establish the National Communications Authority to achieve a clear separation of regulatory matters from institutional matters to ensure accelerated growth in the communications industry.
A committee's report said the speed at which the communications industry was being driven by technological advances and innovations, called for amendment to the existing act to enable the National Communications Authority perform more efficiently in its regulatory role.