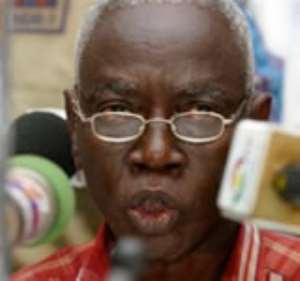 Dr. Afari Gyan, Chairman of the Electoral Commission (EC), has advised electorate to develop interest in the on-going exhibition exercise.
He told Joy News' Sammy Darko that the exercise is the only means and opportunity they have to cross check if their names are intact in the voters register; this would also afford the EC the opportunity to rectify any anomaly in the register.

He said exhibition officers would be at hand to assist anyone who needed help, but warned against those who may attempt to go to the centres with fake I.D cards.
"Once the exhibition official is satisfied that you have a genuine card but your name is not in there, he will fill an inclusion form for you and then he will include your name in the register. So those people shouldn't worry."
He cautioned, "If you do not go there and your name is not in the register even though you may have a valid I.D card, come election day you cannot vote."
He was happy that some minors who were coerced to register during the recent limited registration are voluntarily giving up their I.D cards. People with dead relatives have also reported to the EC for their names to be expunged from the EC's record book.
When Joy News hit town to solicit peoples' views on the exhibition, it was realised that most people have no interest in the exercise and have not bothered to check for their names.
For instance, at one centre, only 215 out of 2036 eligible voters have showed up to check for their details in the register since it was opened on Sunday.
While some held the believe that since they have voted in the previous elections, their names would definitely be in the register, others expressed their ignorance about the exercise.
"I think last four years my name was there, last eight years my name was there, so I am sure this season too my name would be there," one of the people sampled said.
The few people who have checked for their names reported of mixed identities. Some female voters have male pictures next to their names and some people with valid I.D cards do not have their names in the register.
Story Isaac Essel