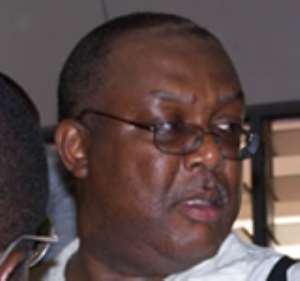 The former Special Aide to ex-President Rawlings, Mr. Victor Smith, has disclosed his intention to run for the presidency of Ghana one day.
"I want to become president of this country because I think that people got to be honest, honest, and not lie to the people," he told Joy FM's Super Morning Show on Thursday.
Victor Smith noted that often times, governments fail to recognize that they have only been given the people's mandate rule.
"I have what it takes to be the president, because if the people give you the mandate, it is the people who give you the mandate to seek their welfare, if you are not doing that then you are not qualified or fit to be their leader," he said with vigour.
Victor Smith accused the present New Patriotic Party administration of taking delight in "deceiving the people".
He said some utterances and figures churned out by officials of the government, including the president, were not aimed at telling the truth to Ghanaians.
He accused the government of injustice and recounted a personal experience where a senior police officer, he alleged, acting on the orders of the government, tried in vain to force him to sign a document to incriminate him.
"When I was accused of trying to kill some journalists…under Akufo-Addo [then the Attorney General and Minister of Justice] they tried to put me in jail over a weekend…
"When that charge was brought against me I went to the police headquarters, they took my finger prints and put a paper before me to sign and process me for prison; a Superintendent of Police asked me to sign as a prisoner when I have not gone before the law."

Mr. Smith, who is the publisher of the Weekly Standard, said the Kufuor administration deserves to be bombarded with criticisms to enable it sit up properly and respond to the needs of the general public.
Kojo Oppong-Nkrumah, host, grilled him on a number of issues, including his present relationship with the former first couple.
He said he has always wished not to have any "bad blood" between them, even though several months since he was asked to quit his office as a special aide through a text message, he only met them once in less than a week ago.
The one-time ardent defender of the Rawlingses, who is said to have even mastered mimicking his boss, said he firmly stood behind the Rawlings' household because, "I believe in what I was doing".
"I tried to be very honest and truthful," Victor Smith remarked, explaining "I don't want to be called a liar."
Work as a Special Aide
He said aside his active engagement with the media, especially talking on radio stations on behalf of the former couple; he was also responsible for seeing to all manner of people who came to see Mr. Rawlings.
He said so many people come with different problems, others he noted, came for money to settle their wards school fees, hospital bills among others. Some also believe the office is approachable so they go there to be connected to government institutions.
The Genesis
Victor Smith came to Ghana from England and tried to project a concept to the government, "Citizens Advice Bureau", for people to go there and have their problems solved by the government.
The concept was first sold to Mrs. Rawlings who bought into it and decided to arrange a meeting with then President Rawlings.
He was later commissioned by Mrs. Rawlings to write some speeches for the 31st December Women's Movement, whilst working for the State Enterprises. He was then moved to the first lady's office and through that he ended up at the office of the former president.
Mr. Smith described Mr. Rawlings as being "Very human" with "soft heart for people, especially the down trodden".
Childhood ambition
Victor Smith wanted to be a pilot but his sight failed him. "I started wearing glasses when I was in the secondary school (St Augustines) and I was told that it was one of the test from the beginning if you don't pass an eye test you won't start the course."
He was pressurised by the father to read medicine at School of Medical Sciences at the Kwame Nkrumah University of Science and Technology but he abandoned it years later. He then went to London to read a degree course in International Transports. He came and worked for a while in Ghana and went back to do his Masters in Business Administration.
Story by Isaac Essel