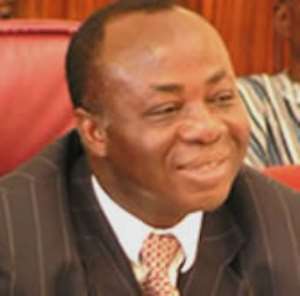 The Accra Fast Track High Court has ruled that the Member of Parliament (MP) for Ellembele, Mr Freddie Blay, remains the Convention People's Party's 'veritably elected parliamentary candidate.'
The court has therefore annulled sanctions imposed on Blay's election after the CPP's Central Committee claimed that the primary that elected him lacked jurisdiction and proceeded to take actions that the court interpreted as annulment of the election.
Justice Edward A. Asante, presiding, noted that the Central Committee acted out of bounds and against the CPP's constitution.
Freddie Blay, also the First Deputy Speaker of Parliament, sued the CPP and six of its leaders, including the flag-bearer, Dr Paa Kwesi Nduom, seeking a declaration that the August 27, 2008 primary held to elect him as the party's parliamentary candidate was proper, valid and in compliance with the party's constitution.
CPP Chairman, Mr Ladi Nylander; the Vice-Chairman, Dr Abu Sakara; the General Secretary, Mr Ivor Greenstreet; the Treasurer, Mr Mike Eghan, and Mr Kosi Dedey, the Spokesperson were all joined in the suit.
The respondents had argued that no decision to annul Blay's election had been made.
The court however held that the message and content of a press release issued by the CPP's Central Committee on August 28, after a meeting of the Committee, was tantamount to annulling the primary.
According to Joy News correspondent Bernard Shaibu, who covered proceedings, Freddie Blay, after the ruling, expressed regret having to go to court to seek redress, but thought given that the party's leadership were misunderstanding their roles as executives, he was left with no choice. He said the legal tussle had taken a lot from his campaigning to retain the parliamentary seat but was hopeful to hit the road again immediately and with a bang now that the way has been cleared.
Only Messrs Mike Eghan and Kosi Dedey were in court on the side of the respondents.
The CPP leadership had prior to the court suit, demanded of Mr. Blay to 'regularise' his status with the party after he was alleged to have publicly declared support for New Patriotic Party Presidential Candidate, Nana Akufo-Addo at rally at Ainyinase on April 30, 2008.
Story by Isaac Yeboah