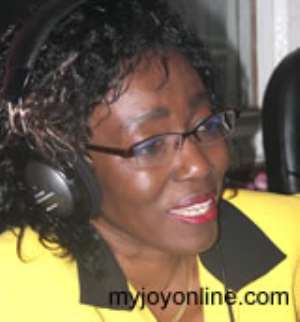 The former First Lady, Nana Konadu Agyeman Rawlings has stitched up 'justice' and 'peace' describing them as an inseparable duo for the forthcoming elections.
"So you know, where there is justice, there is always peace," she told Dzifa Nkansa, host of TV Africa's personality profile show, Mmaa Mo.
Mrs Rawlings made the statement during an interview set to be telecast shortly and referred to the recent limited voter registration exercise.
She chided the Electoral Commission (EC) for the anomalies that dotted the exercise, saying the situation was an indirect way of denying justice to eligible Ghanaian voters.
She said although Ghanaians are peaceful people, denying them justice could trigger an omen for the nation.
The granny and mother of three who turns 60 in November said peace is not "an entity floating... it is as a result of something that you become a peaceful person, you become a peaceful nation."
Mrs Rawlings reaffirmed her support for the NDC flag-bearer Prof John Atta Mills and his running mate John Mahama, proposing them as the best choice in realising the Ghanaian dream.
The women's activist had rooted for a female to complete the presidential ticket of the NDC prior to the selection of a running mate for Prof Mills last July.
In outlining her own criteria for the electorates' choice of a President, Mrs Rawlings declared: "Look at the candidate who can help you change your circumstances, who can help you improve your situation."
The former First Lady who is also President of the 31st December Women's Movement for the umpteenth time denied allegations that she owned a jewellery shop in Geneva, Switzerland, a popular jewellery centre.
She described the allegations as sheer personality smear, pure lies, "not even untruths."
"I must be one hell of a bad businesswoman to go and put up a jewellery shop in Geneva. Who's going to buy my jewellery? I'm not somebody who trades, I'm not a trader, I don't sell clothes, I don't sell jewellery, I innovate," she said.
Asked what she would change if she was to relive her life, Mrs Rawlings did not mention anything but recounted her 'great' childhood experiences, living in the midst of the affluent.
Story by Fiifi Koomson