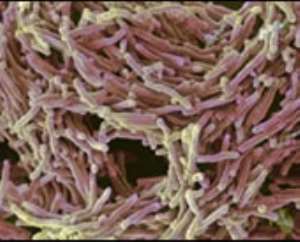 Dr. Kwesi Addo, Chairman of Stop TB Ghana Partnership has expressed concern about the inability of health personnel and volunteers in the Central Region to perform well in the detection, treatment and prevention of the Tuberculosis (TB) disease in the area.
He said the lukewarm attitude of the personnel and the people is affecting efforts of the National Tuberculosis Control Programme (NTP) in achieving the desired national targets.
Dr Addo said this at the end of a two-day sensitization workshop for 100 community-based volunteers at Winneba in the Central Region. The volunteers were drawn from communities in the catchments area made up of Awutu, Senya Breku and Winneba.
The training workshop formed part of sustained and comprehensive activities embarked upon by the Stop TB Ghana Partnership in conjunction with Afro Global Alliance, to harness and encourage traditional and community involvement in TB care and prevention as well as its control.
Dr Addo urged the participants to take the training seriously to be able to undertake visits to homes, faith based organisations, schools, clubs and market places to disseminate the TB messages.
The Chairman said since the emergence of the disease in the country, several collaborative measures have been undertaken to protect the people against the spread of the disease through monitoring and support visits to people at risk.
The National Coordinator of Stop TB Ghana Partnership, Chief Austin Arinze also urged the support of civil society and non-governmental organisations to partner the health sector in its efforts at combating the tuberculosis disease in the country.
He said government and for that matter the health sector cannot fight the tuberculosis disease alone and so there was the need for effective collaboration by all to help fight the disease as well as evolving measures to combat it.
Chief Arinze implored the volunteers to see themselves as integral partners in the fight against the TB disease and to ensure that their role is felt, by starting their activities from their respective communities.
The programme manager of Afro Global Alliance, Mr Abudu Imoro, said TB is a contagious bacterial infection disease, which normally attacks the lungs, but could also affect any other organ or system in the body and is spread through the air that everybody breaths.
Mr Imoro said the workshop was designed to equip participants with the basic knowledge and skills on TB control to enable them to undertake behavioural change in communication activities in their respective communities.
The resource persons included the Municipal TB officer, Disease officer, HIV coordinator and the Medical Assistants of Ewutu and Senya Breku.
The participants discussed the national profile of TB, regional and district performance, what TB is and its causes, care, prevention and control of TB, types of TB, activities of NTP and Stop TB Ghana Partnership, role of community based volunteers, DOTS strategy and community entry proceedings.