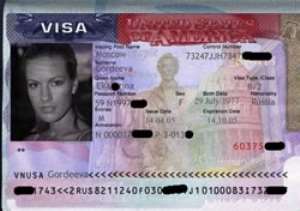 More than 4,000 Ghanaians have, this year, been issued with resident visas to the United States of America under the US Diversity Visa Lottery.
Another 7,000 Ghanaians have won the lottery for next year's programme, but a little less than that figure is expected to be issued visas to the US since not all the 7,000 may pass the interview and qualification process.
The lottery, aims at assisting voluntary migrants from developing countries to travel to the US.
Michael Evans, Head of the Consulur Section at the US Embassy in Accra, told a news conference in Accra yesterday, that the number of Ghanaians winning the lottery had increased significantly in recent years.
About 2,700 winners were issued with visas in 2007, and close to 10,000 winners are expected in the 2010 programme.
He told newsmen at the conference, which was called to address concerns of fraudulent practices in the application process, that the Embassy was concerned about the presentation of fake documents by winners applying for the visas.
"It is important to play by the rules," he said, and cautioned applicants against engaging middlemen, who are mostly fraudsters, to help them to apply.
Mr. Evans reminded applicants that the entry into the lottery was completely free, and that all entries must be done online through www.dvlottery.state.gov to apply.
He announced that the request for applications for the 2010 programme would open on October 22 and close on December 1, and urged prospective applicants to provide all necessary requirements.
He disabused the minds of applicants that winning the lottery was an automatic visa to the US, saying that "winning the lottery means winning the chance to apply for a visa".
Mr. Evans also advised applicants against engaging in fake marriages to enter or apply for visas, indicating that they do not need to be married to qualify for a Diversity Visa.
Asked about his view on the increasing rate of winners from Ghana in view of the fact that the nation needed the human capital to develop, he said the programme was a voluntary one and applicants were not required to have very high qualifications that could be a brain drain on the country.
A total of 55,000 immigrants and their families from developing countries are granted stay in the US annually through the lottery, which was initiated by the US government in 1990.
Deputy Superintendent of Police, Felix Mawusi, of the Commercial Crime Unit, Investigations Department which is working together with the foreign missions to curb visa fraud, cautioned visa contractors against "hijacking" the DV programme.
He advised the public to ignore self-styled visa lottery consultants who claimed they could help applicants to win the lottery, saying the Embassy had not engaged agents to canvass for entries.
"Such characters are fraudsters and should be reported to the police," he said, and warned that there would be police swoops to curb such activities.
Source: Ghanaian Times