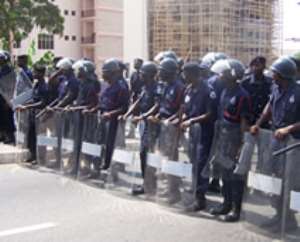 Opinion Leaders in the Bawku Municipality on Wednesday called on the people to help to sustain the current peace in the area.
The leaders of Kusasis, Mamprusis, Moshies, Bisa, Dagombas and Hausa made the call at a press conference held in Bolgatanga to express appreciation to people, who had worked to bring peace to the Bawku area.
They commended individuals, organisations and the government for restoring peace to the area and expressed joy about the resumption of economic activities and asked the people not to do anything to undermine the fragile peace.
Some of the opinion leaders stressed the need for identification of the root causes of the conflicts and to deal with them once and for all.
Mr Pontius Pilate Apaabey, Bawku District Director of the National Commission on Civic Education (NCCE), explained that the National Peace Council, set up by the Government to initiate the Bawku Peace process, was made up of experienced and competent people who did their best to solve the problem.
He said the process of mediation took time and appealed to the people in the area to exercise restraint while the Government through the National Peace Council (NPC) worked to find amicable solution to the problem.
Mr Apaabey stated that the NPC through the NCCE had started the mediation process and had held focus group discussion with 21 unit committees that provided information, which would help the NPC carry out its work.
He said 25 Junior High Schools in the area were being targeted and sensitized on the need to avoid conflict adding that some youth were engaged in violence.
Mr Peter Hastings Mensah, Acting Upper East Regional Director of the NCCE, asked the people not to link traditional issues to politics.
As part of the peace process the Assembly would sponsor a football match between the various ethnic groups and the holding of a grand durbar in Bawku on October 11. It would be organised by NCCE.
Earlier, before the press conference the opinion leaders held a talk on peace process on the URA Radio in the Region.
The Municipality had since the beginning of the year experienced recurring violent conflicts that attracted a lot of attention and efforts from many stakeholders to restore peace.