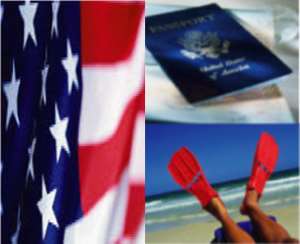 The United States Embassy in Accra on Wednesday warned people who wish to apply for the United States Divestiture Lottery programme to present genuine documents and go by the rules to enable them to qualify.
The Embassy specifically mentioned those who went into fraudulent marriages for the purposes of visa application and entry into the United States to stop such practices because if these were discovered both parties would not receive the visa even if the applicants qualified.
Mr Michael Evans, Consular Section Chief, gave the warning at a press conference to announce the start of the application process of the 2010 DV Lottery programme and urged all people who qualified to apply.
The United States DV Lottery programme is used to encourage voluntary immigrants into the States, especially in countries that historically did not have opportunity for people to migrate to the United States voluntarily.
Mr Evans said about 7,000 Ghanaians had qualified for the 2008/2009 programme and the Embassy was yet to start with the interview programme. He added that winning the lottery meant having the chance to apply for a US visa.
"You must meet the education qualification of five passes in WAEC SSSCE including Maths and English, an HND or University Degree or occupation where one had two years of training and two years work experience in a specific field."
Mr Evans said the US was undertaking this programme because the country acknowledged that immigrants had helped build the United States to be what it is today.
Mrs Jillian Bonnardeaux, Vice Consul at the Embassy, expressed concern about people who used fake information or documents to apply for the programme and said if found out one would be disqualified from the DV programme and risk permanent ineligibility for any visa to the United States.
She said the process to apply and qualify were clearly spelt out on their website and advised that people should be sure they are qualified before they paid the non-refundable fee of GHc 891.25 per person for the scheduled interview.
Deputy Superintendent of Police Felix Mawuse of the Criminal Investigations Department (CID) also cautioned that the Police would soon be out against those who hang around embassies waiting for ignorant people to dupe.
"Do not engage other people to apply for a visa or any other thing for you," he advised, expressing worry about people who had turned themselves into "consultants" seeking information from people for fraudulent purposes.
He also warned communication centres and internet cafes who publicly advertised themselves as U.S. Visa Lottery experts to stop.
DSP Mawuse said the Ghana Police Service had strict penalties for those who engaged in fraud especially those who used fake documents for visa applications.