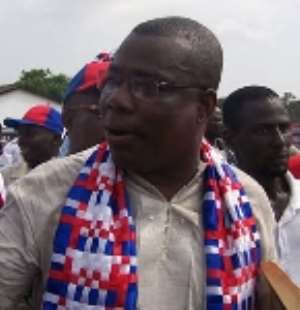 The National Chairman of the NPP, Peter Mac Manu, has condemned the acrimony and acts of intimidation that have characterised the selection of a candidate to succeed the late Kwadwo Baah- Wiredu.
"The party executive and the entire NPP family do not endorse any act of intimidation or violence and I urge them to be respectful, law abiding and do everything in a peaceful manner," he stated, adding, "We abhor this kind of behaviour and will not want it to continue."
Speaking in a telephone interview with the Times in Accra on Wednesday, Mr Mac Manu said: "The late Baah-Wiredu does not deserve the acrimonious acts that have characterised the selection of a suitable candidate to continue from where our beloved left off".
He said, "what everybody in Asante Akim should be pondering over is how to collaborate to ensure that we give Mr Baah-Wiredu a respectable and befitting burial".
"I am making a passionate appeal to all our members to remain calm whilst the party makes efforts to find a replacement for the late Minister," he said.
Mr Mac Manu denied allegations that some executive members at the national level were interfering in the selection of a candidate to represent the party in Asante Akim North, saying "we disassociate ourselves from any such acts".
He explained that in the interest of peace, he declined to sit on the committee that vetted applicants seeking to succeed the late Baah-Wiredu as MP.
"I was in Kumasi on Tuesday when the vetting was conducted but I did not take part," he said.
He said also that the national executive had not received any petition from anybody who had been disqualified in the primaries in Asante Akim North.