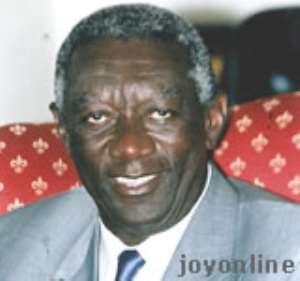 The government has started a process to return lands that were leased by the government to their rightful owners.
The government's announcement follows the recent threat by the people of Ga Dangbe Council to make the Kufuor-led administration unpopular if the lands are not released to them.
According to a Joy News report, Lands and Forestry Minister, Esther Obeng Dapaah, said the gesture is to fulfill a promise by President Kufuor to give the lands back to the owners.
The lands are located in areas including East Legon, Adenta, Kwabenya, Madina and Ogbodzo
The government on Wednesday met some of the landowners where the government's decision was disclosed to them.
"The Survey Department has been directed to undertake survey and demarcation of the portions of lands to be released," the Minister said.
Mrs. Obeng Dapaah explained: "Category two comprises of lands that have been totally encroached upon either by the owners or trespassers, these are lands which had prior to the acquisition being acquired by individuals who lost their right due to the acquisition but have not been compensated."
For this category, she said the Lands Commission would regularize the encroachment by giving the encroachers title documents to cover the parcels that the encroachers are occupying.
However, "The regularization is subject to the payment of penalty to be decided by the Lands Commission."
The first category includes those that have not been encroached on and have state infrastructure on them, which the government would take some portions for public purposes.
The government's gesture has however been described as unwelcome by Mr. Bright Akwetey, a member of Ga Dangbe Council, who claimed it is a political gimmick.
"Government is just playing politics with the interest of Ga Dangbe people," he told Citi FM.
He said: "If they want to give back the lands, let them start from Cantonments, continue to Airport, go to Roman Ridge, Kanda and all the areas where they have shared the lands to party gurus, ministers, their wives, relatives and children. They should give back the first class residential areas first before they go to Kwabenya and other areas. Whom are they fooling? They are not fooling anybody."
He said the Council will take the appropriate action very soon and would fight for their lands even if it has to take them 10 to 20 years.
Story by Isaac Essel