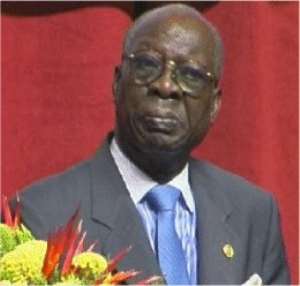 Parliamentarians on Wednesday paid tribute to the former Speaker, Mr Peter Ala Adjetey, who died a couple of months ago, saying, he had contributed tremendously to parliamentary democracy.
They described the former Speaker, who is to be given a state funeral this Friday, as a man of many parts, who had strength of character, which helped in shaping Parliament.
Mr Ala Adjetey assumed office as Speaker in January 2001 for one term and is credited with having presided over the passage of 92 bills into law.
Mr Osei Kyei-Mensah Bonsu, Deputy Majority Leader, in a statement on the floor of House, said the former Speaker promoted consensus in Parliament, which brought about unity in the legislature.
Ms Christine Churcher, Member of Parliament for Cape Coast, said "since no one knew when and how death would come, it was up to the individual to live a life that would impact positively on others".
Minority Leader, Mr Alban Bagbin, said the former Speaker was impartial in the discharge of his duties.
Majority Leader, Mr Abraham, Ossei-Aidooh, said Mr Ala Adjetey was an ardent believer in the rule of law.
The House also concluded the debate on the Second Reading of the National Pension Reform Bill, which was moved by the late Mr Kwadwo Baah-Wiredu, the former Finance Minister,.
Dr Anthony Akoto Osei, Minister of State at the Finance Ministry, winding up the debate, said the bill, when passed into law, would address areas such as a pension scheme for the informal sector and also correct the inadequacies of retirement benefits.
Meanwhile, Members of Parliament are expected to throng the Kotoka International Airport at 2100 hours to receive the mortal remains of their departed colleague, Mr Baah-Wiredu.