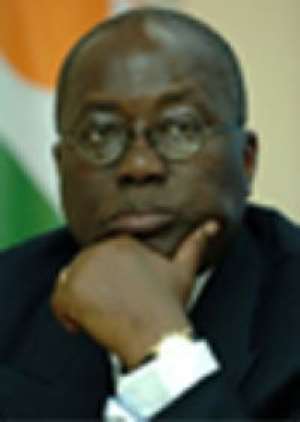 SYMPATHISERS OF the New Patriotic Party (NPP) who undertake various activities at the Kejetia Terminal have come together to form 'Apostles of NPP' to root for the party and its flagbearer.
The group is to send the message of good hope in the policies of the Kufuor-led administration and educate the people, particularly commuters at the terminal, on the need to vote massively for Nana Akufo-Addo and the NPP to continue with the good works of the ruling government.
Membership of the group comprises traders, drivers and storekeepers among others. According to Madam Freda Darko, patron of the group, the School Feeding programme (SFP), National Health Insurance Scheme (NHIS) and the free Basic School (SHS) education were some of the policies to be propagated to the people.
She indicated that child labour had reduced at Kejetia in particular, because minors who used to hawk there were now back in school as a result of the introduction of the Capitation grant and SFP which has made education affordable and accessible to all, and has also eased the burden of parents.
With a strong belief that the country under the leadership of the NPP was heading towards economic prosperity, Madam Freda Darko, who is also the Managing Director of Freko FD, managers of the Kejetia bus terminal, urged the members of the Apostles of NPP to intensify their campaign and root for the NPP and its flagbearer to become the next President of Ghana.
The inauguration of the group in Kumasi, last week, coincided with the launching of NPP Text Raffle in aid of the party. Patrons of the raffle would have to text NPP to 1968 to enter into the raffle after paying a minimum of GH¢1. The first and second draws of the raffle are scheduled November 3 and December 15, 2008, respectively. Prizes at stake include cooking utensils, tabletop refrigerators, LG television sets, gas cookers and mobile phones.
Mr. Joseph Amoah, a campaign strategist of the NPP indicated that the more one patronizes the raffle, the higher the chances of winning any of the prizes at stake, and thereby help raise funds to support the NPP campaign.