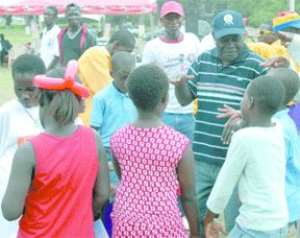 Ghana's boxing legend, Barimah Azumah Nelson, says he believes all children, irrespective of their background, must be given a chance to make it in life.
It is this strong belief that has encouraged the boxing professor to set up a foundation, aimed at assisting underprivileged children in the society.
"Children must not suffer for the mistakes of their parents. Society owes them a duty to prepare them for a meaningful future. And with what I have been blessed, I want to do my bit," he said during the launch of his foundation in Accra.
"All around the world, children and even adults have proved that given the opportunity, they can make something meaningful in their lives. I was given the chance through boxing. Many others have had similar opportunities through sports or something else from well-meaning people. This is, therefore, a proof that no one is useless," he said.
"This is what has inspired me to help the disadvantaged, and I pray to God that I get the support and the goodwill to succeed in my next endeavour. After all, I made it in my professional life as a boxer," Azumah Nelson spoke passionately about the project.
Th Azumah Nelson Foundation, intends to establish a youth leadership training centre that will offer vocational, professional and sports skills development opportunities to disadvantaged but talented boys and girls to realise their individual potentials for the benefit of the African continent.
The sod-cutting ceremony for the project took place on the 50-acre land at Akuse in the Eastern Region.
The boxing professor described the project as the most important part of his life now and called for public support to make it succeed.
Azumah's initiative has started receiving support from some well known personalities worldwide. His former opponent in the ring, Puerto Rican Juan LaPorte was present last weekend for both the launch and the sod-cutting ceremony.
LaPorte described the initiative as "a laudable idea which deserves the support of all. Azumah is a great man and I am impressed with his vision. I am willing to support him in whatever way I can to make this dream succeed," he pledged.
At the launch, a number of people, including former World Boxing Champion, Ike Quartey, made pledges to support the project.