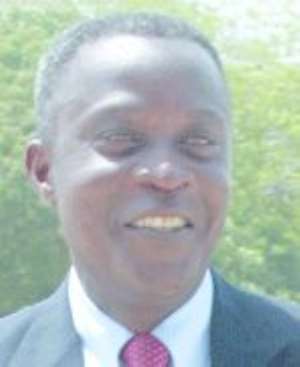 It was indeed a gloomy Wednesday a couple of weeks ago with the sundown announcement by an Accra-based private radio station of the passing away of one of the nation's cultured gentlemen.
One of the most precious gems I have ever come across, filled with so much humility, yet wielding so much power as the Minister of Finance and Economic Planning.
I stopped on my way home at a car wash that Wednesday afternoon to have my car cleaned. Just after I had parked the car at the washing bay, I took a seat under a tree and by a 'community' radio, which had been turned on unusually high with many people gathered around it. I almost asked for the volume of the radio to be lowered, and then I heard the tail end of an unpleasant announcement in English.
The Twi version of that same breaking news came on almost immediately announcing the death of the affable and respected Minister of Finance and Economic Planning, Mr Kwadwo Baah-Wiredu.
I froze instantly. I asked a man standing near me what was going on. He told me in a low and sad tone that the fine gentleman had died in an accident in South Africa. My immediate question was whether it was a motor traffic accident or plane crash.
The instant intuition of this man, like me, was that Mr Baah-Wiredu could not die so suddenly if it was not through an accident. He was right. How can he die so suddenly? He was on television just some two weeks back with all smiles as Nana Akufo-Addo introduced him at Agogo as the NPP Parliamentary candidate for the Asante Akyem North Constituency for the December elections.
No, he cannot die around that time, because I had met him at a function at the end of August and nothing showed that he was that ill.
I went into denial, hoping that what I was hearing was only an expensive joke. I called a friend, whom I knew would know if it was indeed true, and she confirmed that it really was true, adding that 'even though nobody heard about his illness'. My phone quickly snapped closed.
Is life that really short? Life in reality is indeed like a shadow. The family of the former Minister of Finance, in particular and Ghana in general, has lost a gem. How can death rob a family and a nation of such a humble personality with such a big heart and respect for everyone who came across him?
He had ears for everyone; he smiled to everyone; he was a man in his prime. Yes, he was 'young' in age, prime in character, in mannerism, in his profession, in his job, and in his contribution to Mother Ghana.
The very last time I met Mr Baah-Wiredu was at the Alisa Hotel in Accra at the end of August, when the Graphic Communications Group launched its Business newspaper and he came as the special guest.
Even though he was not the first to speak, he asked that we all stand up for a minute's silence for all those who lost their lives in a recent incident when it was his turn.
At first, I thought that was out of place, but on reflection now, it tells so much about the personality of the man. He was the embodiment of respect, selflessness, thoughtfulness, and was caring. He put others first even in his official duties.
He was full of fun as he gave his address that afternoon, punctuating facts with some humour. Elaborating at a point on the Ghanaian economy and the stabilisation of the cedi, he dipped his hand into his pocket and showed to his audience, one billion Zimbabwean dollar. Everyone burst into laughter.
I had personally met the minister at his office a couple of times while in the company of some key officials of my former employer. As usual, he had his ears on both occasions to listen and offer plenty of suggestions and advice.
Then again, I met him at least on three occasions when, as part of a BOPP and TOPP delegation, we went to present to him the government's share of dividends from both companies.
Always full of jokes, he would charge us to go back and work even harder and bring more dividends to the government. On such occasions, he had time to chat with each member of the team, confirming the fineness in his dealings with people.
I did not have a regular working relationship with the late minister, but for the few times I met him, I had genuine respect and admiration for him. I admired his hard work, selflessness, humility, dedication to duty, the smile he wore for everyone, and, above all, the pride he had for his country.
Each time I met him or saw him on television in a formal attire, he complemented it with a pin of the Ghana flag. That is something I find lacking in some of our public officials. His belief in Ghana was with a difference.
The late Baah-Wiredu's untimely demise is one of those that one would wish could be reversed to enable him to complete his unfinished agenda for both his family and the nation.
Honourable, as I used to call him, Ghana thanks you for the part you played in shaping our local government system, our education and sports administration and, finally, your determination to make the economy robust as contained in the interview you granted to Kofi Yeboah of the Daily Graphic, which was boldly captured on the front page of the paper of Friday, September 12, 2008, less than two weeks before your demise.
The economy which you referred to in that interview as expanding tremendously has been orphaned by your death. We believe that as you wished your nation well, your kind and gentle spirit will abide in us as a nation in these hard times of global economic disorder. Oh no. Death has cheated us big time.
Honourable, those of us who had the opportunity to shake your warm hands on those few occasions are proud that we had that rare opportunity in our lives.
We wish to join your dear family, your mother and siblings, your entire extended family, the President and the Government of Ghana, your colleague ministers and Members of Parliament, your NPP family, your friends and associates, the business and financial communities, your constituency members, and all who admired you from near and far to bid you a most difficult farewell.
Honourable, it has been a difficult week for your admirers. One thing we know for sure is that your battle is over and you are going to rest peacefully.
As you cross over to the other side, we wish you God's care. "Da yie. Nnipa beye bi. Nyame mfa wo nsie ma yen."
Adieu, Kwadwo Baah-Wiredu.
Goodbye to a true gem.
Article by Vicky Wireko