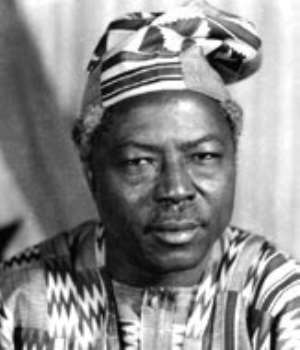 There is a mad rush by two Nkrumaist parties to wrestle the support of the family of the late president Dr. Hilla Liman as the 2008 elections draw nearer.
The family through election results have been loyal to the People's National Convention, the party on whose wings Dr.Hilla flew to become president.
But that loyalty was questioned when Sulley Cooper a "supposed" spokes person of the family declared the family's unflinching support for The Convention People's Party earlier this week.
Cooper made the declaration when Dr. Abu Sakara the CPP's vice presidential hopeful paid a visit to Gwollu in the Upper West, the birth place of Dr. Hilla Liman.
But this has been rubbished by the People's National Convention.
"It is not true; it can't be true it can never be true," Dr. Ahmed Ramadan, chairman of the PNC told Joy news.
He said the Liman's family is an embodiment of the PNC and would not abandon the party at this crucial moment.
Meanwhile the authority of Cooper to make such a declaration has been vehemently challenged.
The Paramount Chief of Gwollu Traditional Area, Kuoro Buktie Liman, on whose behalf the declaration was made said he is embarrassed by the pronouncements.
"Cooper is just a relation, not an authority, and could not talk on my behalf. He is just a clerk in the palace," he noted.
Buktie Liman who is the immediate successor to the late Dr. Hilla Liman, reiterated his commitment as a paramount chief to stay off active partisan politics as it is enshrined in the 1992 constitution.

He told Joy News he would welcome all political parties who intend to pay courtesy calls on him at the palace.
Story by Nathan Gadugah