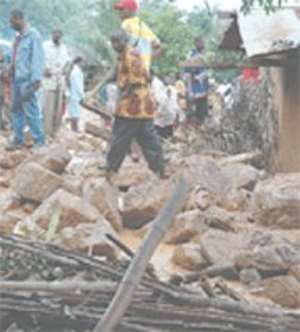 Three persons — two women and a three-year-old boy — have been trapped to death by landslide following torrential rains at Adukrom-Yensi, a farming village in the Akuapem North District of the Eastern Region.
The bodies of Doris Asantewa, 55, Yaa Oforiwaa, 72, and Kwasi Mantey, the three-year-old boy, were found yesterday and sent to the Tetteh-Quashie Memorial Hospital at Mampong-Akwapim.
The incident which occurrred Monday, has thrown the farming village, noted for cassava cultivation on the Adukrom-Koforidua road, into a state of mourning.
According to Mr Kofi Mantey, Asantewaa's husband, he was in the kitchen with Asantewaa and Mantey, their grandson, preparing the evening meal when it started raining heavily.
He said Oforiwaa went to seek shelter with them in the kitchen, but all of a sudden a huge volume of rain water mixed with rocks and mud covered the kitchen, trapping his wife, his grandson and Oforiwaa. Mr Mantey said he, however, managed to escape unhurt.
A Senior Fire Officer, Mr Paul Opoku, told the Daily Graphic that one person, Mr Kwabena Larbi, 49, who was also trapped in the mud was, rescued by Fire Service men.
In another development, another landslide that occurred after the torrential rains the same day and blocked the Adukrom-Koforidua road on the outskirts of Asenema, about two and a half kilometres from Adukrom Yensi, has been cleared by the youth of the town.
Story by  A Kofoya-Tetteh