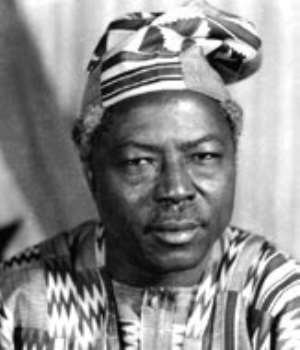 The family of late President Dr. Hilla Liman has thrown its weight behind the Convention People's Party (CPP) as the viable party to win the December elections.
The family's intent to abandon Dr. Liman's own party, the People's National Convention (PNC), to endorse another Nkrumaist party has come as a surprise to a section of the public including the PNC flag-bearer, Dr. Edward Mahama.
Dr. Mahama told Joy FM's Seth Kwame Boateng, who is on his campaign trail, that he does not believe what he heard and wanted to confirm it before making any further comment.
According to Joy FM's correspondent, Agbeko Ben Cofie, a spokesperson for Dr. Liman's family, Sulley Cooper, had said since the overthrow of Dr. Liman, the Nkrumaists have failed to present a united front to contest an election, and added that the time for them to do so is now.
Mr. Cooper believed that the only alternative Nkrumaist party capable of winning 2008 elections is the CPP, explaining why the family is backing the CPP to wrestle power from the New Patriotic Party.
The spokesman went to the extent of denouncing the PNC sitting Member of Parliament for Sissala West, Haruna Bayirga, whose jurisdiction covers Gwollu town, the birth place of Dr. Liman, in the Upper West Region.
However, Mr. Cooper's claim has been downplayed by the National Women Organizer of PNC, Hajia Ali as a "political talk".
She said Gwollu has been and would forever be the stronghold of PNC, adding that Mr. Cooper just made the comment to make the CPP feel at home since they were in the area to campaign.
"This is politics, when you go to places people welcome you and promise to vote for you especially when you pay courtesy calls on chiefs and opinion leaders… he is just saying it for saying sake."
She however wished the pronouncement was not true as captured by the Joy FM's Super Morning Show, confident "it will not dent our political fortunes at all".
Story by Isaac Essel