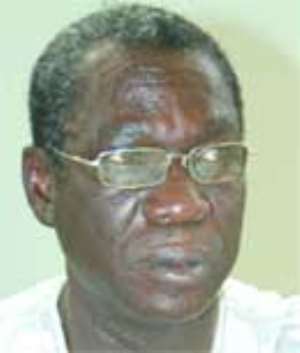 THE Executive Director of Sustainable Social Action for the Reduction of Poverty (SSARP), Mr. Richard Addo, has disclosed that Ghana's demand for rice, currently stands at 700,000 metric tonnes, but the local Ghanaian rice farmer is able to produce only 150,000, leaving a deficit of 550 metric tonnes.
This deficit, according to the Executive Director, was very appalling, but said if the Ghanaian local rice farmer was able to employ best and modern methods of farming, the problem would be arrested in the near future.
In 2005, the total rice consumption of Ghana amounted to 450,000 to 500,000 metric tonnes. The Greater Accra and Ashanti regions were the largest consumption areas in Ghana, sharing 25% and 21% of the total rice consumption respectively.
To arrest the problem, SSARP, in collaboration with the Ghana Rice Inter-Professional Body (GRIB), was organising a four-day workshop for local rice farmers, millers, processors and marketers at the middle ecological zone, on the theme, 'Building the Capacity of our Rice Farmers to Produce More Rice for Ghana'.
The four-day workshop, which will end on the 9th of this month, is purposed to improve the production capacity of farmers to increase yield and educate them on modern methods of land preparation, planting and harvesting.
At the end of the workshop, it is expected that the farmers would be empowered to employ modern techniques, to improve their farming activities.
The Executive Secretary of the Ghana Rice Inter-Professional Body (GRIB), an umbrella body for rice stakeholders, Mr. Fidelis Avogo, on his part, observed that while local rice production was relatively declining, imports of rice was astronomically increasing, due to the increasing demand for rice in our daily menus.
According to him, statistics indicated that imported rice, currently constituted about 80% or more of our local rice consumption needs.
This revelation, according to him, would become a threat, "if we do not wake up to the happenings in the international world."
According to Mr. Avogo, the way forward to avert that looming threat was for farmers to produce quality rice to meet the demands of the consumer.
Processors should also process quality rice within the highest hygienic and quality environment.
Marketers should also sell quality rice to the consuming public, and consumers should demand and pay for quality.
To Avogo, for the farmer to produce quality local rice, meant that the latter must observe modern farm practices from beginning to the end, and must look at farming as a business, and work towards minimising costs and maximising profits.
The Regional Director of the Ministry of Agriculture, Mr. David Okine, told the farmers to find out what had made local rice demand and production go down. This question, according to the Regional Director, would help find solutions to resuscitating the dying local rice demand and production.
He called on the farmers to work tirelessly for the promotion and sustainable production of local rice.