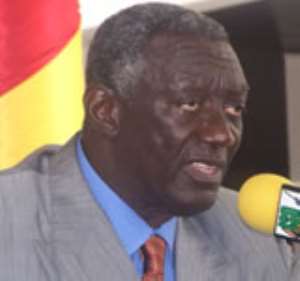 Ghana will soon receive the first batch of 10,000 units of personal computers from the Massachusetts Institute of Technology (MIT) to be distributed to children of school going age across the country.
The move is in fulfillment of government's new education reform programme which is aimed at equipping all school children from age 5 to 12 with modern personal computers.
This was announced by President Kufuor during the 14th National Best Teachers Awards organised in Sunyani which was under the theme: "Quality Teachers for Quality Education - Teachers Matter."
Showing a sample of the computer to the thousands of teachers gathered, President Kufuor proposed "Baah Wiredu's Computer A Child" as the name for the policy initiative, to acknowledge the leading role played by the former minister, before his untimely death some two weeks ago.
This policy he said would propel Ghana to achieving the Millenium Development Goals.

The president further announced the procurement and distribution of text books for all levels of education in the country to facilitate the smooth implementation of the new education reforms.
He said the government was committed to improving the conditions of service of teachers in order to rationalise and make the service more attractive.
In line with that, 130 two to four bedroom units of accommodation have been constructed nation wide to accommodate teachers.
"More units are still under construction," he added.
According to the President, a progressive review of salaries for teachers is already on stream, with an effective implementation of a single salary spine to begin next year.
"Society can never pay teachers commensurately, but government will pay them just enough to sustain their job pride, social responsibility and standing in community," he assured.
The President further pledged government's commitment for peaceful, free and transparent elections in December in order to consolidate the country's development.
The ceremony was also used to award deserving teachers for their hard work.
Mr Sadik Boateng of the T.I. Ahmadiya Senior Secondary School in Kumasi, Ashanti Region, emerged the overall National Best Teacher and won a GH¢60,000 worth house to be situated at a site of his choice. His prize also comes with a set of computer.
The second prize of a double cabin Nissan pick-up plus a set of computer, went to Madam Magdalene Mensah of the Opoku Ware Senior High School, also in Kumasi, with Madam Alice Dzifah Gligli Denwieme of Awudome Senior High School in the Volta being crowned the second runner-up. She received a saloon car and a computer.
Story by Nathan Gadugah