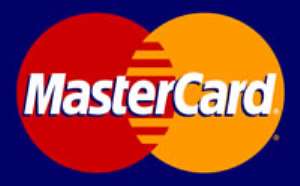 Ghana Commercial Bank (GCB) on Tuesday made another stride in the financial sector with the launch of its MasterCard, the first of its kind in the country.
MasterCard is an international electronic card that allows transactions in over 1.8 million Automatic Teller Machines (ATM) with 26 million sales points globally.
GCB is the first in the country to be granted a MasterCard Principal Status with the right to issue cards, acquire related products and sponsor other banks as affiliates to also issue cards, Mr Lawrence Adu-Mante, Managing Director of GCB, said in Accra.
He said GCB was also one of the few banks in Africa to hold the MasterCard and Visa principal licences to facilitate one-stop cards services from the top global card brands.
Mr. Adu-Mante explained that the initiative was among efforts to sustain business at GCB through globally accepted banking services and standards to the convenience of customers.
Like other cards, he said, MasterCard offered financial flexibility, convenience and security across borders.
He mentioned that the product had come along with other related ones, the MasterCard Standard Debit MasterCard, the GCB Gold Debit MasterCard and GCB Corporate MasterCard.
Mr. Adu-Mante expressed the hope that GCB would within the next 12 months expand its branded cards products and services to include the GCB family of MasterCard credit cards, Visa ATM that would allow the GCB ReadyCash to accept Visa cards as well as other GCB Visa and credit cards.
Mr. Van Lare Dosoo, Deputy Governor of the Bank of Ghana, said the introduction of the product demonstrated the many dividends of macroeconomic and social stability and investor confidence in the country.
He noted that the product would open Ghana to global opportunities associated with card transactions and also contribute to the development of internationally acceptable payment systems in the country.
Mr. Dosoo expressed the BoG's commitment to meet needs of the financial sector and called for the cooperation of all banks to implement the National Payment System that would ensure inter-operability among payment systems and terminals of financial institutions.
"We encourage all banks to use the most currently standard security technology to ensure absolute privacy of customer information and transaction processing," Mr Dosso added.
Dr Anthony Akoto Osei, Minister of State at the Ministry of Finance and Economic Planning, said the initiative was a sign of changes in the banking and finance industry, adding that "the country is gradually heading towards a predominantly card-based economy".
He therefore asked companies to strike partnership and alliances with the global community, as the GCB had done with MasterCard Africa, in order to open the economy for growth.
The Minister said this would help Ghanaian businesses to benefit from advanced technology, bigger markets, capital and best practices.
Dr Osei also advised Ghanaians to focus on high quality standards in order to penetrate the international market and commended GCB for its hard work.