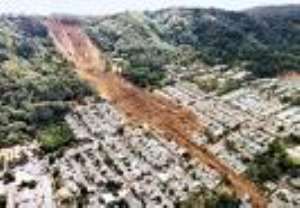 Three people are feared dead, with several submerged houses in AduKrom in Akuapim, following a severe landslide on Monday.
The landslide which started around 2:30 pm was believed to have been triggered by a severe rainfall.
A report filed by Joy News correspondent Benjamin Henaku said three communities, Kporve, Asenema and Adukrom Nyensi were the worst hit.
"In Kpebe a rock uphill fell on three houses, with the accompanying floods destroying several other houses," he confirmed.
According to Mr. Henaku, 30 houses have collapsed in Asenema, some five hundred metres away from Kporve, when flood-impregnated-rocks swept through the community.
In Adukrom Nyensi where the slide actually occurred, many more houses have been swept away, he added.
Meanwhile, officials of the Ghana Fire Service, police, National Disaster Management Organisation as well as the District assembly are busy providing assistance to the affected communities.
According to Mr. Henaku excavators are clearing the debris rather cautiously, in an attempt to locate the three missing people which included two women and a three year old boy.
Meanwhile NADMO has warned of a continuous occurrence of landslides at the Akuapim and Kwahu Ridges both in the Eastern Region.
The organisation explained whenever there was a heavy rain in mountainous areas, there was a great possibility of landslides.
Story by Nathan Gadugah