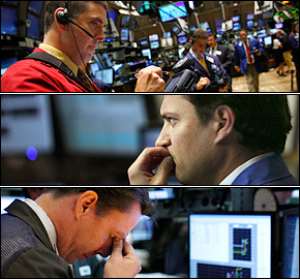 European and Asian stock markets were mixed in volatile Tuesday trading with investors continuing to worry over the strength of financial institutions.
London's FTSE 100 moved ahead by late morning, despite banking shares taking a hammering. Royal Bank of Scotland - which lost 40% at one point - fell 17%.
Having shed 7.8% in the previous session, the key London index was up 1.1%. France's Cac-40 index added 1.7%.
Asian markets were mixed as traders reacted to the turmoil.
Japan's Nikkei 225 index sank more than 5% - below the 10,000-point barrier - before recovering slightly to close down 3%.
However Australia's financial markets rallied after the country's central bank cut its official interest rate from 7% to 6%.
'Recession arrived'
The market moves came amid developments including:
The Icelandic government took control of the country's second biggest bank, Landsbanki, which owns UK internet bank Icesave
Taiwan became the latest country to say that it would fully protect depositors' savings should a bank fail
The British Chamber of Commerce said that the UK was already in recession
The BBC's business editor Robert Peston learned that a trio of leading UK banks had met with Chancellor Alistair Darling and told him they were disappointed he had not presented a fully elaborated banking rescue plan
Australia's central bank trimmed interest rates from 7% to 6% - despite inflation being well ahead of government targets
European Union finance ministers prepared to meet in Luxembourg for emergency talks on the world's financial meltdown
Moscow's two main stock exchanges opened several hours late on Tuesday having suffered heavy losses on Monday
In London, the FTSE 100 index was up 50 points at 4,639 after its early gains evaporated.
Its 391-point drop on Monday had already wiped £93bn from the value of London's leading shares.
France's Cac-40 index, which lost more than 9% in the previous session, surrendered some of its early gains, but was 65 points ahead at 3,777, while Germany's Dax index added 0.7% to 5,425 points.
The Nikkei index lost 317.2 points to end at 10,155, while Hong Kong's Hang Seng ended 5% lower in afternoon trading.
On Wall Street on Monday, the Dow Jones recovered from being more than 800 points down at one point to end 370 points lower at 9,955.5 points - its first sub-10,000 finish since 2004.
Source: BBC