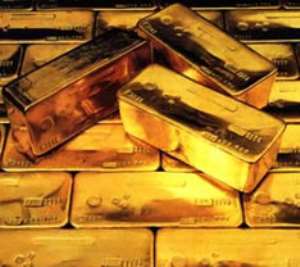 Ghana's gold holdings stood at 280,872 ounces (or 8.77 tonnes) as of September 18, 2008 and it is valued at $245.68 million.
The same quantity of gold on December 31, 2007 was valued at $228.741 million, due to price changes of gold in the world market.
According to the Bank of Ghana, which keeps the country's foreign exchange reserves, including gold holdings, gold reserves had not changed in ounces and tonnes since 1996, although its market valuation has been changing with price movements in the world market price.
This finding is contrary to reports in some international and local media circles that last year the country quietly sold off its entire gold holdings, rumours the Governor of the Central Bank, Dr Paul Acquah, said lacked basis.
"The gold holdings of Ghana's Foreign Exchange Reserves held by the Bank of Ghana in ounces and tonnes have not changed since 1996," a statement from the bank's Public Affairs said.

The statement explained, however, that "the market valuation however changes with movements in the world market price of gold."
Checks by the Daily Graphic revealed that the total value of gold reserves as of December 31, 2007 was GH¢228.74 million.
The figure for 2006, as captured in the Bank of Ghana Financial Statement published in the 1668 issue of the Ghana Gazette on August 22, this year, was GH¢64.26 million.
The 2007 holdings included GH¢I74.216 million gold investment in the Bank of England and GH¢15.746 million gold set aside at the same bank, with GH¢62.871 million kept at the Federal Reserve Bank in the United States.
The rest are UBS gold investments of GH¢67.583 and a local holding of GH¢8.325 million.