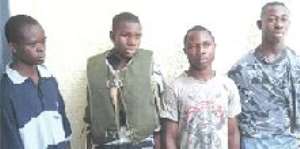 The police in Tema have arrested a gang of four armed robbers who broke into a house at Community 12, unleashed terror on the household and stole $53,000, GH¢4,000 and other items.
They are Eugene Keteku, 24, a houseboy; Lawrence Jerry Amuzu, 22, a trader; Francis Kpogo, 20, a labourer, and Francis Wornam, 20, a student.
Two others are on the run and are being sought for by the police.
The Tema Regional Police Commander, Assistant Commissioner of Police (ACP) John Kudalor, told journalists that on September 24, 2008, Amuzu, Kpogo, Wornam and two others stormed the house about 2.30 a.m. armed with machetes, guns and cudgels.
He said they molested members of the household and added that apart from the cash, the robbers took away mobile phones, a DVD player, among other items.
He said the police suspected that the crime was committed with the connivance of an insider and picked up Keteku, the houseboy, for interrogation.
ACP Kudalor said the police found the information gathered from Keteku very reliable and caused him to lure Amuzu to a spot on October 4 to hand over Keteku's share of the booty.
Amuzu, according to him, was arrested when he arrived at the spot, while Wornam and Kpogo were later arrested at their hideout in Ashaiman.
He said when their abode was searched, military accoutrement that was used for the robbery was found and the suspects admitted the offence.
They admitted planning the robbery with Keteku and added that it was he who left the gate to the house open to make for easy access.
ACP Kudalor advised the public to check the backgrounds of houseboys and security men before employing them, adding that statistics available in the metropolis revealed that many houseboys were accomplices of armed robbers.
"The public should also be vigilant and ensure that the gates and entry points of their residences are locked before they retire to bed. They should also be alert even when asleep," he said.
ACP Kudalor also advised the public not to patronise stolen goods, adding that it could land them in prison.
He said the various security measures put in place by the police were yielding fruitful results and urged the public to assist in combating crime in the region.