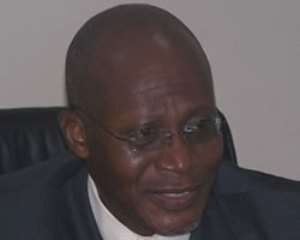 An independent presidential aspirant for this year's general elections, Kwesi Amoafo Yeboah, has said that the recent battle between some political parties and the Electoral Commission (EC) over a "mere" filing fee of GH¢5, 000 for presidential candidates, was an indication of their inadequate preparation and lack of seriousness towards the elections.
"I do not have so much wealth but I just do not have a problem with the filing fee; my interest is to contest the election and win to bring real economic independence to the youth and Ghanaians in general.
"If parties cannot raise GH¢5, 000 to present a presidential candidate then I would advise them not to toy with the precious time of the electorate," he remarked.
Mr. Amoafo Yeboah was speaking in an interview with the Daily Graphic at Bolgatanga prior to a meeting with his district representatives in the Upper East region.
The meeting was meant to discuss how to spread his message of "Real Economic Independence" to hard working Ghanaians.
As part of the meeting, district representatives endorsed the independent presidential candidate's nomination form, which he intended presenting to the EC by the middle of October.
He asked Ghanaians to change from their usual belief in the big talks of politicians, which he said were often not fulfilled, and rather vote for people with practical ideas of making life better in the country.
"Election is not a mere game of chance, but a game where the hard working candidate with the most accepted message wills. So if a party is hardworking and is sure of winning the December 7 election, then they should go ahead with the nomination process and also pay the fee; if not, they should pack out of the contest because no Ghanaian has the right to toy with the presidency."
On the issue of "Ghanaians being lazy", he said it was an unfortunate statement if indeed it was made and meant as such.
"My observation is that majority of Ghanaians have not had real opportunities to enable them work and benefit from their sweat.
What I see is that the few employers take advantage of the lack of employment opportunities in the country to exploit skills and strength of the youth and knowledge of the elderly to better their businesses while the employees work in pain and sorrow."
He said in his private life as a businessman he had employed some Ghanaians who were earning realistic salaries, therefore if he should become the next president he would create an enabling environment which would motivate young people to go into private business, rather than the usual dependence on central government and a few people to provide them jobs.