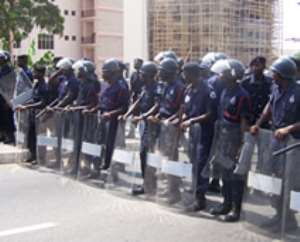 Deputy Commissioner of Police Kweku Ayesu Opare-Addo, the Ashanti Regional Police Commander, has appealed to police personnel to be open minded during the December elections.
He said as peace officers they needed to conduct themselves well to ensure transparent, peaceful and fair elections.
Mr Opare-Addo said this on Monday at a two-day ongoing Election Monitoring seminar organised by the Ghana Police Service for the security agencies and other stakeholders in Ashanti and Brong-Ahafo regions.
Over 200 participants including police, prison officers and immigration officers are attending the seminar.
Mr. David Kanga, the Deputy Chairman of the Electoral Commission, in his presentation on managing conflicts during elections, called on the personnel not to take part in the administration of the elections.
He advised the peace officers to desist from harassing and intimidating any candidate or voter during the exercise and that suspected minors could be challenged through the filling of an objection form.
Mr. Kanga appealed to the peace officers to be abreast with the rules and regulations governing the election and that provision would be made to ensure that the visually impaired vote independently.