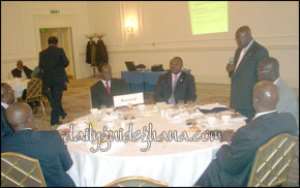 Nana Akufo-Addo addressing a breakfast meeting of the Ghanaian Business Community in London
NANA ADDO Dankwa Akufo-Addo has said that all those who are preaching and praying for doom to befall Ghana in this year's elections would bury their heads in shame.
He was confident that the 2008 elections would pass the test and succeed just like the previous ones which have been held since the inception of multiparty democracy in 1992.
The presidential candidate of the New Patriotic Party (NPP) made this statement at a fund raising banquet held in London last Friday by the NPP UK & Ireland to aid the Nana Akufo-Addo for President 2008 Campaign.
Nana had earlier held a breakfast meeting with some Ghanaian business community in London at the Landmark Hotel on Thursday. He observed that those preaching doom for the nation were doing so because they do not have any concrete message for the electorate.
"Ghanaians will not accept anything less than a better life hence my resolve to lead the nation into prosperity when elected into office," he reiterated.
Nana Akufo-Addo told the gathering that Ghanaians in the Diaspora would be extensively involved in policy formulation and implementation under his presidency.
The campaign director for the NPP, Dr. Kofi Konadu Apraku, told the gathering that it was important for NPP and the NDC to compare records on the performance of their respective governments. He said this year's polls was about choice and that the choice was between the misrule of the NDC and the good governance of the NPP, the economic liberation of ordinary Ghanaians under the NPP and the hardship bestowed on the people under the NDC.
The banquet was also addressed by Adam Afriyie, Conservative Member of Parliament for Windsor, UK. Hon. Afriyie, who is half-Ghanaian half British and a shadow minister for Shadow Minister for Innovation, Universities and Skills, pointed out the link between his party's ideologies and that of the NPP. He was optimistic that a Conservative government in the UK and the NPP government in Ghana could work together to better the lot of the both countries.
The banquet was attended by some members of the Akufo-Addo for President 2008 Campaign Team. They included Kwabena Agyepong, Dan Botwe, Rita Asobayire, NPP National Women's Organiser and the Ghana High Commissioner to the UK, Annan Cato.
Madam Beatrice Bernice Boateng, parliamentary candidate for New Juaben South (Koforidua) was also present at the banquet.