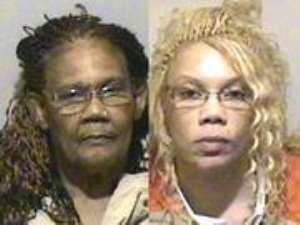 A grandmother has been jailed for 13 years for smuggling £1 million worth of cocaine into the UK in her mobility vehicle.
Judge Adele Williams said Ambrozine Heron, 77, was a "willing participant" in the crime with her daughter, Paulette Chambers, 49, who was sentenced to 14 years in prison.
Canterbury Crown Court heard how the pair from Smethwick, West Midlands, were stopped by customs officers as they arrived at the port of Dover after travelling from France in March.
A search of Heron's specially-adapted Nissan Pathfinder led to 16kg of uncut cocaine being found in carrier bags on the back seat, hidden inside tins of palm oil.
Sentencing the pair, Judge Williams said Heron, who the court heard suffers from a range of illnesses including diabetes, asthma and hypertension, became involved in the crime to alleviate suspicion.
She said: "I have no doubt that your role in the car was to add some respectability to the journey in respect of your age and your ill health." But the judge added: "The vehicle in which you were travelling was the mobility vehicle which you, Ambrozine Heron, were entitled to because of your disability.
"You Heron, in all the evidence before me, were a willing participant in this importation."
The court heard the pair were likely to have smuggled drugs into the UK on several other occasions after it was discovered they had made the same or similar journey 14 times in the six months leading up to their arrest.
Prosecutor Quentin Hunt said Chambers, who has three children between the ages of 12 and 18, told customs officers they had been visiting relatives in France when they were stopped at about 11.30am on March 21.
He said: "In fact they had gone to Amsterdam, or near Amsterdam, and it was clear that that was where the drugs were collected from.
"Customs officers were scrupulous in their inquiries and discovered that these defendants had made some 14 trips across the Channel, dating back from October the year before.
"For the majority of the trips they had been going through France, through Belgium, and into Holland, and returning the next day or soon after."
The court also heard that financial checks on the pair found that £90,000 in cash had been put in Chambers' bank account since their first trip.
Defence lawyers for both mother and daughter asked the judge to take into account their ages and previous good character as well as Heron's ill health.
But Judge Williams said: "The sympathy of the court cannot be engaged in that way.
"Those who import class A drugs into the United Kingdom commit a very serious offence.
"Cocaine is a dangerous and pernicious drug capable of causing havoc in people's lives. There are large profits to be made from its importation."
Edmund Anderson, who was driving the vehicle when the two women were stopped, was acquitted of any involvement following the trial last month.
However the jury found Heron, of Bearwood Road, Smethwick, guilty of the offence.