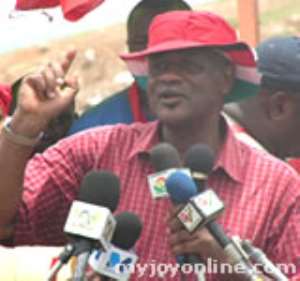 With just 62 days to go for the much anticipated December polls, the People's National Convention (PNC) say its presidential candidate is destined for the Flag-staff House, the next seat of government.
"We are going to win one touch, and in the worse scenario of a run-off, the PNC is going to be one of the parties." Party chairman Alhaji Ahmed Ramadan declared to Joy News' correspondent Seth Kwame Boateng after the party's rally in Walewale in the Northern Region.
"We are so solid on the ground, so solid in all the regions and with multiplicity of parties we are certainly going to make it to the flag staff house," he added.
The party is also poised to increase its presence in parliament, following an abysmal performance in the 2004 elections, with just four seats from a total of 230.
He said the party does not bus or cloth people to support it, something he accused the ruling New Patriotic Party of doing, adding "when we go round, they identify with us, and run after us. This is the difference between the PNC and the other parties."
While criticising the NPP for concentrating on the Western and Central Regions, he said the three Northern Regions still remains the stronghold of the PNC, and with the support shown in the southern sector, the party will cause the biggest upset in the upcoming polls.
He discounted the assertions that the PNC is pulling the crowd because its presidential candidate Dr. Edward Mahama is a native of the Northern Region, insisting the trend has been no different in the other constituencies the party have campaigned.