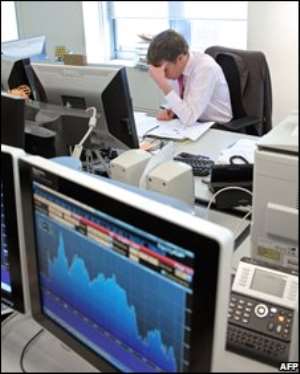 European turmoil outweighed relief over the US bail-out, analysts said.
European and Asian stock markets have fallen steeply as government bank bail-outs in the US and Europe failed to stem fears of slower growth.
London's FTSE 100 index and France and Germany's main stock markets all sank more than 5.5% in morning trading.
Japan's Nikkei index fell 4.3% to its lowest close since February 2004. Hong Kong's Hang Seng index slid 5%, while key Russian markets slumped by 15%.
The falls came in the first sessions since the US approved bank bail-out.
The $700bn (£398bn) rescue plan's lack of immediate impact on the availability of credit for banks had contributed to markets being driven downwards, analysts said.
"The Fed's bail-out plan may have been passed on Friday but so far there's been no real reaction in credit markets and because of this the natural assumption is going to be that the measures won't work, even if such a call is rather premature," said Matt Buckland of CMC Markets.
Stock markets are falling... and it's the troubles of Europe's banks, and the messy response of the authorities, that's to blame
Robert Peston
BBC business editor

Failing banks
Analysts said that Germany's increased 50bn euro ($68bn; £38.7bn) bail-out of Hypo Real Estate, the country's second-biggest commercial property lender, had alarmed investors.
Germany earlier appeared to announce an unlimited guarantee for private savings - though later said this was not the case and had instead given only a "political commitment" that savers would not lose deposits.
However, Denmark had already moved to offer full protection, while Sweden massively increased the level of protection it offered.
The Hypo RE rescue came amid other developments including:
1. The Icelandic government agreeing measures for the country's banks to sell off some foreign assets in a bid to shore up its entire financial system. Iceland's currency last week plummeted 20% against the dollar and the government was forced to bail out the country's third-largest bank, Glitnir
2. Trading in shares of Benelux bank Fortis being suspended - the day BNP Paribas took a controlling interest in the troubled finance group under an emergency deal with the Belgian and Luxembourg governments
3. Central banks across Europe - including the ECB and Bank of England - offering more than $74bn to banks in short-term loans in separate efforts aimed at trying to making cash available for the banking sector.
4. Spanish Prime Minister Jose Luis Rodriguez Zapatero and French President Nicolas Sarkozy arranging meetings with the heads of their respective country's main banks to discuss the global financial crisis.
Oil falls
In London, the FTSE 100 index had fallen 270 points, or 5.5%, to a four-year low of 4,708.
Germany's Dax index lost 5.4%, while France's Cac 40 index dropped 5.9%.
Earlier, Japan's Nikkei index had closed down 465 points at 10,473.1 - a four-and-a-half year low.
Markets in India, China, Australia and Singapore also lost ground, while the main Indonesian market lost 10% - the biggest one-day fall on record.
And trading on Russia's two key stock markets was suspended after share prices plummeted 15%.
The prospect of a slowdown denting energy demand saw oil prices fall further, dipping under $90 a barrel.
US light, sweet crude fell $4.03 to $89.85, while London Brent crude dropped $3.64 to $86.61.