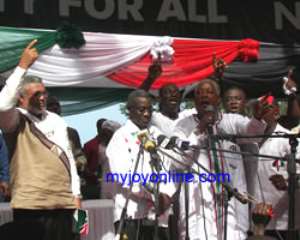 Former President Rawlings says the NDC's Manifesto was a clear vision to steer Ghana towards a better nation through a focus on youth care, development and employment.
In a statement issued after the launch of the party's manifesto last Saturday, President Rawlings said only the NDC has a genuine determination to harness the youth for national development.
"Daily, the youth of our nation face issues of drug abuse, unemployment and the effect of HIV and AIDS. Too many young people drop out of school and too few measures are in place to avoid this. Young people need advice, mentoring and support from their parents, teachers and peers to ensure that they make the right decisions that will secure a bright future as they move into the adult world," former President Rawlings said.
According to Rawlings, an estimated 1.7 million young people will enter adult life this year and be allowed to have a say about the future of Ghana, and more importantly about their own future.
He said the NDC had no plans to sow seeds of confusion and violence during the December elections and cautioned all party faithful to remain steadfast and vigilant but avoid any actions that will give room to conflict.
"When I spoke about the Generals at the launch I was once again giving credit to people who throughout their careers steadfastly defended the country and ensured that it maintained a peace and stability hitherto unheard of in the country. Those who assume my reference to such great citizens of Ghana's means I have plans to destabilize the country are in dreamland," he added.
Touching again on the youth, the former President said "A huge responsibility rests on the shoulders of government, business, NGO's, teachers and parents to assist in unlocking the tremendous potential of Ghana's youth and to guide them to become independent but responsible achievers and contributors towards a Better Ghana. Manifestos do not assure that. The people responsible for the planning, development and implementation of the Manifesto assure that." He added that he had no doubt that Prof. Mills and his team are the only option available to the youth of Ghana to ensure a prosperous and bright future.
"I urge our young adults to make a wise choice on the 7th of December 2008. False promises of the past are continued at present. Judge the current ruling party by these unfulfilled promises, and weigh up the character of the Presidential candidates – then make a wise and calculated choice. I am sure that you will find Prof. Mills to be the only option with a track record of service to the country, combined with a character of integrity, honesty and hundred percent dedication," Ex-President Rawlings said.