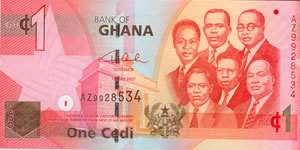 The Ghana cedi has depreciated by 16.14 per cent to the US dollar since January this year, the Gold Coast Securities (GCS)-Cedi Index, which measures value of the cedi against the four major currencies indicated on Monday.
The cedi, which enjoyed some stability last week to the Dollar, fell on Monday to the dollar and the CFA but appreciated to the Pound and the Euro pushing down the GCS-Cedi Index by 0.25 points.
The Index, therefore, dropped at 114.41 points on Monday from 114.66 points last Friday.
The year-to-date for the Pound and Euro shows a deprecation of the cedi by 2.98 per cent and 7.51 per cent respectively but indicates 6.97 per cent appreciation against the CFA.

The cedi gains value when the index goes down and it loses value when the index goes up.

On a whole, the cedi fell by 0.12 GH pesewas to the Dollar and 0.08 GH pesewas to the CFA but appreciated by 0.53 GH pesewas to the Pound and 2.72 GH pesewas to the Euro.

Change for the year to date and change base year (July 03 2007) to date now stands at 10.16 per cent and 14.41 per cent respectively.

The Index is calculated as a geometric weighted average of changes in the four currency rates against the cedi at the Inter-bank market, relative to a base of 100 set on 03 July 2007, when the Bank of Ghana redenominated the national currency at a base value of 100.

It is inversely proportional. A quote of 105.50 means the cedi value has depreciated by 5.50 per cent since the base period, while a quote of 85.3 means the cedi has gained by 14.77 per cent since its base year.

Source: GNA