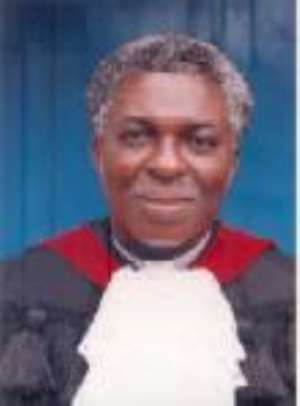 The Right Rev. Dr Yaw Frimpong-Manso, Moderator of the Presbyterian Church of Ghana, has asked political parties to pursue their partisan agenda within the framework of national unity, so as to engender peace and tolerance.

"We must be true to ourselves at all times when debating issues, accepting the obvious facts and ensuring that our criticisms are just, fair and constructive."

He was preaching the sermon at a national interdenominational thanksgiving service to climax a weeklong fasting and prayers at the Independence Square in Accra on Sunday.

President John Agyekum Kufuor, Vice President Alhaji Aliu Mahama, the Speaker of Parliament, Mr Ebenezer Begyina Sekyi-Huges, Chief Justice Georgina Theodora Wood, Ministers of State and Parliamentarians joined thousands of Christians at the service.

Also there were some Presidential Candidates of the political parties including Mr Dan Lartey of the Great Consolidated Popular Party (GCPP), Dr Paa Kwesi Nduom, Convention People's Party (CPP) and Professor John Evans Atta-Mills, National Democratic Congress (NDC).

Put together by the Government and Christian Churches of Ghana, it was on the theme, "Seek the Peace and Prosperity of the Nation".

The Moderator said the nation should guard against anything that could derail the gains of current economic growth and democracy.

The political parties and their members, he said must exercise restraint in the event of any extreme provocations during the electioneering campaign, the period of voting and after.

Christians on their part should not only pray for peace but, should also make every effort to help to abate political tension and eradicate ethnic and religious hatred.

He reminded the nation that peace did not come automatically and that this required a determination to be tolerant and open to diverse views.