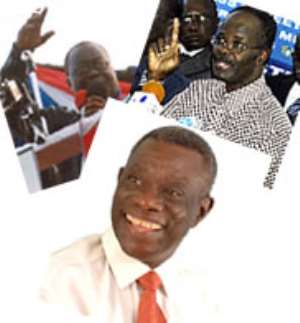 The executive director at the center for policy alternatives Dr. Sulley Gariba has chided the plethora of promises inherent in the manifestos of the various political parties.
Describing the manifestos as just "opinions on the solutions", Dr. Gariba says, they lacked the adequate policy descriptions founded on technical basis on what needs to be done to move the nation forward.
"Those opinions do not appear to be significantly different from each other. Each of them says what is wrong with the sector and offer further opinions on how they may change it." He added.
Speaking to Joy News Dr. Sulley Gariba said the parties may not be able to implement all the promises when elected into office because there were too many of them.
He also criticized the parties for not providing enough details on the cost component of the various manifestos, as well as the sources of funding to implement the various promises.
Meanwhile, the various political parties say they will use the remaining 63 days to explain the details of their manifestos to the electorates.
Mr. Samuel Ofosu Ampofo, National Organiser of the National Democratic Congress said the party will use an integrated approach to step up campaign ahead of the December polls.
Whilst the party will hold on tight to its door-to-door campaign to explain its manifesto into details, the National Organiser said the party will organise the mother of all rallies in one of the regional capitals to garner more support for the party.
Arthur Kennedy, Communications Director of the Akufo-Addo campaign team said more team will be put out in the field to explain the details of the manifesto to the electorates.
He also stated that rallies will be held in each region to be climaxed by a mammoth national rally before the polls in December.
Being the first political party to launch its manifesto, The People's National Convention say the electorates have been given the opportunity to read into details the content of their manifesto and are optimistic that the electorates will vote for them accordingly.
"By the principle of the early bird catches the worm we believe that by December 2008 we will come up tops," the General Secretary Bernard Monah told Joy News.
The Convention People's Party Communications director Kossi Dede said the party's flag bearer and other party bigwigs will tour the various regions in the country to propagate the need for change.
Story Nathan: Nathan Gadugah