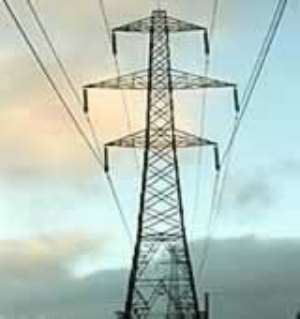 The Deputy Minister of Energy, Mr. Kwame Amporfo-Twumasi, has inaugurated a GHcI50,OOO joint electrification project for the people of Akyem Eshiem and Bantama in the Birim Municipality of the Eastern Region.
The Member of Parliament (MP) for Akyem Oda, Mr Yaw Osafo-Maafo , bought 47 low-tension electric poles from his share of the District Assemblies Common Fund for the project while the Ministry of Energy provided the needed high-tension poles and other materials for the project.
In his inaugural address, Mr Ampofo-Twumasi advised entrepreneurs and well-to do people in the area to take advantage of the electricity by establishing cottage industries to create job avenues for the unemployed youth.
He said it was the policy of the New Patriotic Party (NPP) government to extend electricity to all communities in the country in four years time.
The deputy minister also gave the assurance that all wired houses in the two communities would be provided with metres to enable the households to enjoy power. He advised the people to employ competent electricians to wire their houses to prevent them from catching fire with its attendant loss of life and property.
Mr. Ampofo- Twumasi enjoined farmers to strive to protect the wooden electric poles from bush fires since the money used for their replacement could be invested in other development projects.
He also urged them to conserve energy by switching off all electrical appliances whenever they were not in use. .
Mr. Ampofo-Twumasi enjoined the Birim Central Municipal Assembly to endeavour to extend electricity to all schools in the two communities to enhance the distance learning programme.
He pledged five, diamond bulbs each for Eshiem and Bantama for their street lights.
Mr Osafo-Maafo, who also spoke at the function, gave the assurance that as the gateway to the Eastern Region and the Birim Central Municipality, Eshiem would be provided with more development projects befitting its status.
He stated that during the second phase of the electrification project, many communities in the municipality would be connected to the national grid.
Mr Osafo-Maafo stressed that it was the intention of the government to implement a pension scheme for farmers to lessen their plight during their old age.
In response to an appeal by the Amankrado of Eshiem, Nana Oti Ababio, for more low tension electric poles for the expansion of electricity to every nook and cranny of the town, Mr Osafo-Maafo pledged 10 of such poles to them while the Municipal Chief Executive (MCE) for Birim Central, Mr. Frank Kwame Busumtwi, also promised them five poles.
Each of the two personalities also pledged five diamond bulbs for their streetlight project.
Both the Amankrado of Eshiem, Nana Ababio, and the chief of Bantama, Nana Kwabena Annor were full of praise for Mr. Osafo-Maafo for his commitment to the development of the entire constituency, and pledged that they would always remain committed to the NPP government.