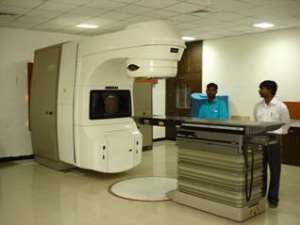 The first patient was successfully treated by the state-of-the-art technology in radiotherapy – linear accelerator, which began functioning last week at RR Cancer Institute and Research Centre, Sri Ram Murti Smarak Institute of Medical Sciences (SRMSIMS), Bareilly in India.
A linear accelerator (LINAC) is the device most commonly used for external beam radiation treatments for patients with cancer. The linear accelerator can also be used in stereotactic radiosurgery similar to that achieved using the gamma knife on targets within the brain. The linear accelerator can also be used to treat areas outside of the brain. It delivers a uniform dose of high-energy x-ray to the region of the patient's tumor. These x-rays can destroy the cancer cells while sparing the surrounding normal tissue. A linear accelerator is also used for Intensity-Modulated Radiation Therapy (IMRT).
"LINAC will benefit people in need of such cancer treatment in at least 150 kilometer radius, and even beyond" informed Dr Piyush Kumar Agarwal, Assistant Professor at SRMSIMS.
It is noteworthy to mention that from a non-descript city of Barreilly, SRMSIMS provides not only general healthcare services but also super-speciality medical services to one of the most populated states of India in an era where corporate healthcare is only concentrated in metropolitan cities. The need of the hour is to strengthen diagnostics and treatment facilities in all health centres, not just big cities.
The national incidence of cancer in India is approximately 100 to 130 individuals per 100,000, according to the population-based cancer registry of Indian Council of Medical Research (ICMR).