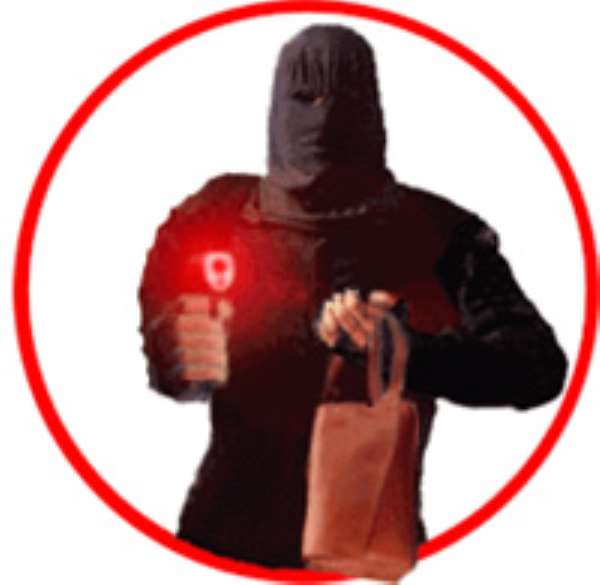 Ghana has become the breeding ground for a dangerous strain of armed robbers.
Known for our hospitality and warm heartedness, Ghana seems to appear easy prey to some of the criminal elements that have developed over the years. Armed robbery is a social problem that has become so widespread that, it impinges on the conscience of the people. As such, many are calling for something to be done about it.
According to Prof. Ken Attafuah, "armed robbery is a real menace in the Ghanaian society which occurs whenever force is applied in stealing from a person using machetes, guns and dangerous weapons."
He also postulates that, "armed robbery is one of the most frightening and audacious things to happen to anyone."
Prof. Ken Attafuah in his book, "Fighting armed robbery in Ghana", indicates that, between 1997 and 2006, there were 7,471 reported cases of armed robbery in Ghana. Of this Greater Accra recorded the highest of 2,829, Ashanti 2,412 and Tema 557 respectively.
Since the problem is growing so fast, legislators have not gathered the political courage to seal the cracks in the society that predispose individuals to armed robbery. In Ghana, when there is an increase in armed robbery cases, government and other stakeholders are fast to call on the security agencies be up and doing. They do this without recourse to the fact that, armed robbery is a social problem, which is embedded in the social structure. Thus, to curb it, proactive and preventive strategies must be devised and implemented to the latter.
Armed robbery has dire consequences on our growing economy since it has the tendency of driving away potential investors who are willing to invest in the country. Therefore, the issue should not be on the shoulders of the security agencies alone. What is needed is an all inclusive approach from all stakeholders in the Ghanaian society.
Ghanaians need to see the situation as a social problem embedded in our social structure that needs the synergy of efforts from the church, school, family, media as well as government in order to achieve desired results.
Commentary: In an election year, we cannot ignore this epidemic any longer. This Goverment is perceived as soft on violent crime.