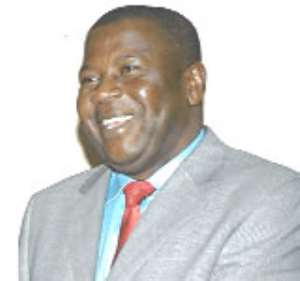 Vice President Alhaji Aliu Mahama on Wednesday described the development pace of Ghana as one of the best in Africa with the inherent potential of becoming the greener pasture on the continent.

He stressed: "Ghana stands tall among the countries in Africa and this has attracted enormous international goodwill.

Alhaji Mahama made the observation when he interacted with the Ghanaian community in Conakry, Guinea, at a dinner organised by the Ambassador, Mr Dominic Aboakye as part of a two-day official visit to the country.

The Vice President on Tuesday led a government delegation, to Guinea to grace the country's 50th independence anniversary, which is on the theme: "Together We Build."

Alhaji Mahama, who enumerated a number of development projects in Ghana including roads and other social amenities said: Ghana was moving forward in prosperity.

He expressed the hope that, the discovery of oil would be a blessing to the country by accelerating the development process.

Alhaji Mahama called on the citizenry to pray for peaceful elections on December 7, as a guarantee for the sustenance of the country's socio-economic progress.

He asked politicians to stick to issues rather than pronouncements that are likely to undermine national stability.

President Lansana Conte, sent a special delegation on September 17, led by a Special Envoy, Mr Youssif Sylla to formerly invite Ghana to attend the anniversary celebration.

On Thursday Alhaji Mahama joined a host of African leaders to witness the anniversary parade.

The event attracted a number of people who cheered the security personnel and their civilian counterparts on parade.

On display were armoured carriers and other military hardware.

Security men had a hectic time pushing back the curious crowd and a host of journalists who were eager to have a close view of the event and the invited guests who were present.

Some of the Heads of State at the anniversary were Madam Ellen Sirleaf-Johnson of Liberia, Mr Abdoulaye Wade, Senegal, Mr Amadou Toure of Mali and Laurent Gbagbo of Cote d'Ivoire.