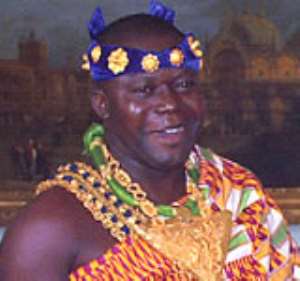 The Most Reverend and Right Honourable Dr. John Sentamu, Anglican Archbishop of the York in the United Kingdom (UK), on Thursday paid a courtesy call on Otumfuo Osei Tutu II, Asantehene, at the Manhyia Palace in Kumasi during which he offered him special prayers.
"Ask of God to strengthen the Asantehene and shower his blessings as he dispenses justice and also fight for the cause of his people," he prayed.
The Archbishop further prayed for the progress of Asanteman and for peace to prevail in Ghana before, during and after the December elections.
He pointed out that, the Anglican Church had for a long time been associated with Manhyia and hoped leaders of the two institutions would work hard to sustain and strengthen this collaboration for their mutual benefit.
Most Reverend and Right Honourable Dr. Sentamu urged the Asantehene to be fearless, just, honest and dedicated as he fights for the cause of humanity in the areas of education, health, governance and social life.
In a message delivered on his behalf, Otumfuo Osei-Tutu II assured the Archbishop of Manhyia's continuous support for the Anglican Church in its endeavours for society's benefit.
He hailed the Church for influencing the Ghanaian society positively since its inception in the country many years ago by preaching the unadulterated word of God in the face of challenges.